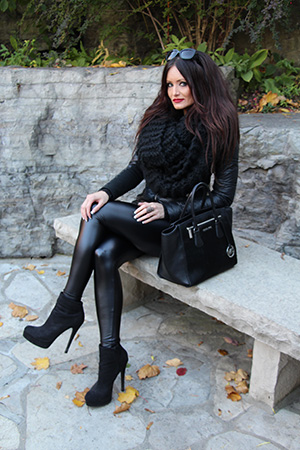 Hello everyone! My name is Helena Marz and I'd officially like to welcome you to my Blog! I've finally decided to take the plunge and share my love of fashion, beauty, health and fitness with you all. I am very excited with this new chapter of my life and welcome this new beginning. For as long as I can remember people have asked me questions about cosmetics, wardrobe and fitness and I am so delighted to be sharing my advice on all these topics. While I have a full time job, I will do my best to keep my blogging up-to-date on a regular basis. I'm a firm believer in the statement, "If you put your mind to something, anything is possible" and I know my love of fashion and beauty will allow me to push myself to create a blog that all women will enjoy.
As a lover of fashion while watching my wallet, I'll be incorporating affordable brands with a mix of some must-have high end designers. You can still look like a million bucks without breaking the bank! I'll be giving tips and ideas of where to shop for reasonable prices on high end brands as well as more affordable ones. I mean, who doesn't love Tory, Michael Kors or H&M?!
What I love about fashion is that it gives a person a unique sense of self and allows them to be comfortable in their own skin. No one should have to feel they need to wear certain outfits or to follow the crowd. In my opinion, it's boring to see everyone dressing in the same style – stand out and make your own statement! Don't blend in with the crowd!
From a young age I was always fascinated with modeling and dabbled in it while in my teens. I am currently with an agency in Toronto and have learned how tough it can be in such a competitive industry. My dream has always been to be in the fashion industry and I thought what better way to leave my mark than to start this blog! I can't wait to get started on some fun photo shoots and start writing some great pieces for you all to enjoy. I love meeting new people who share my love of fashion and beauty and I hope to get the chance to collaborate with some wonderful people and companies.
"If you can dream it, you can do it!" Thank you for taking the time to read this and I hope all of you enjoy following me on my journey with my blog!