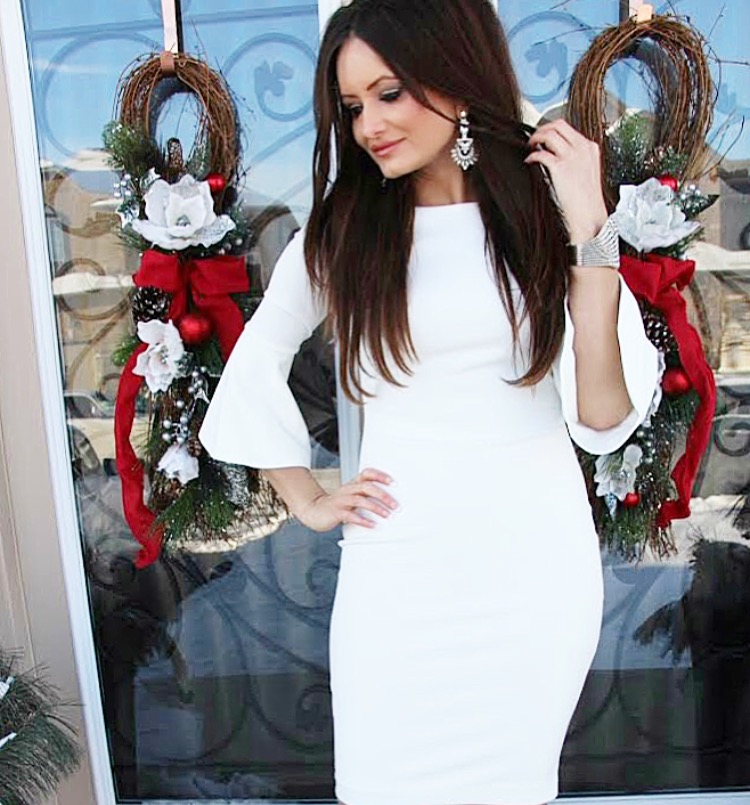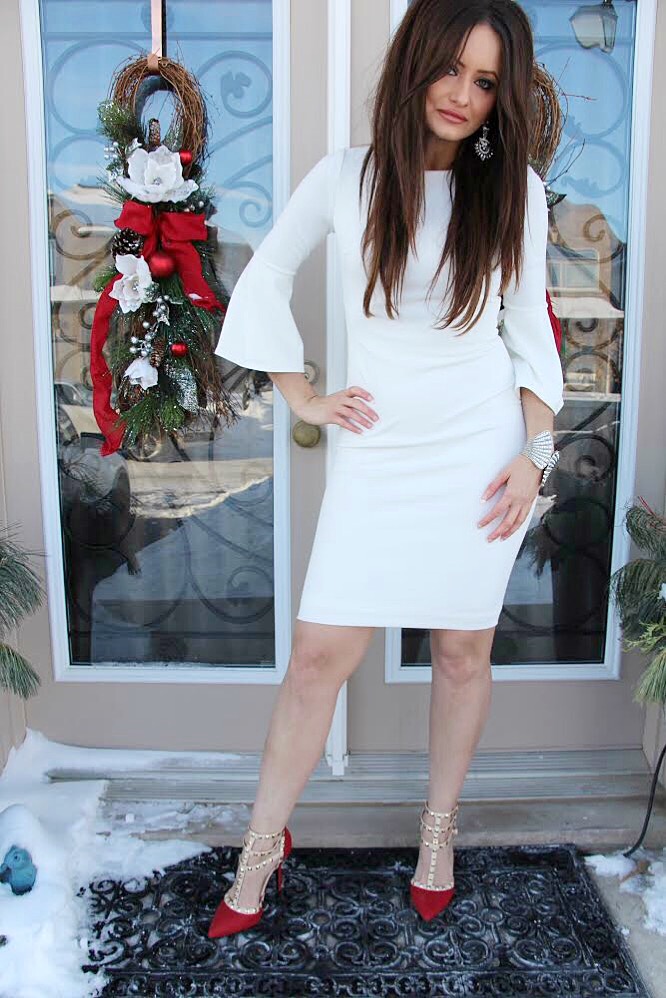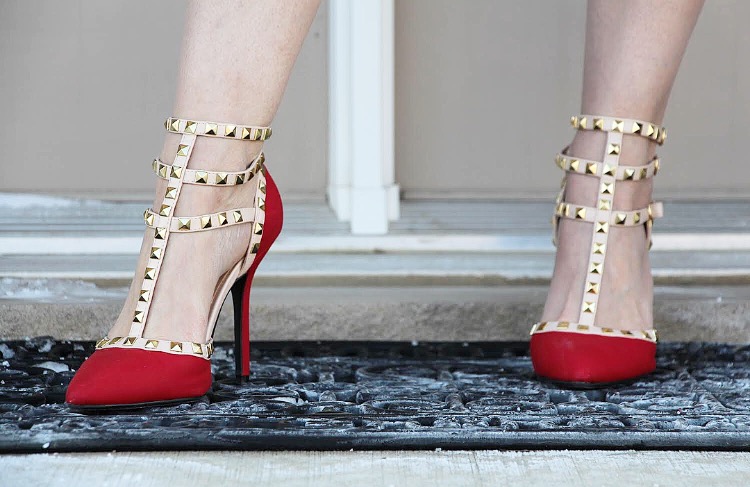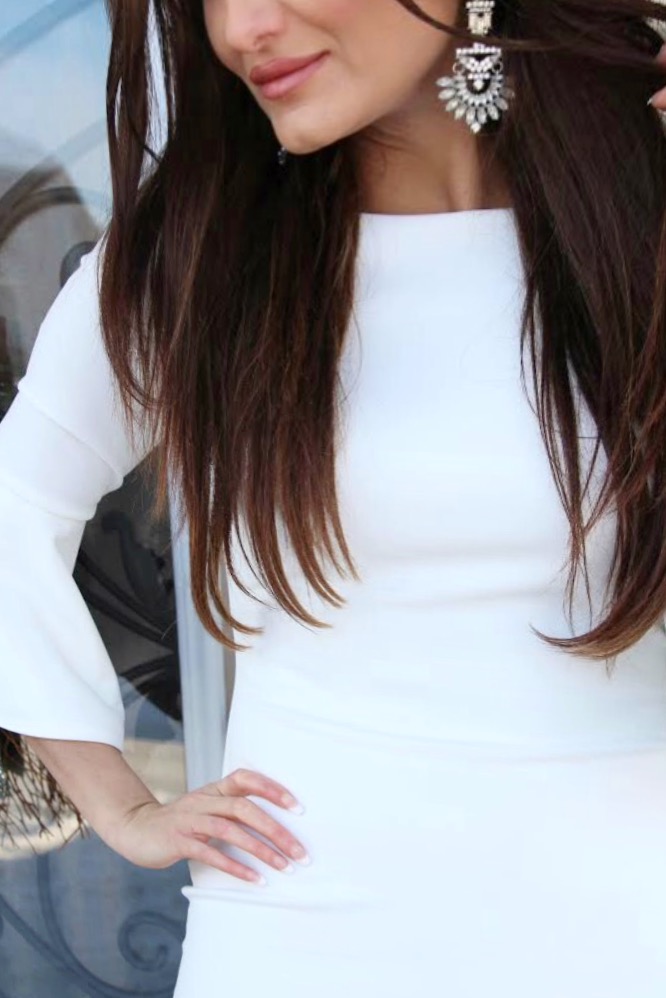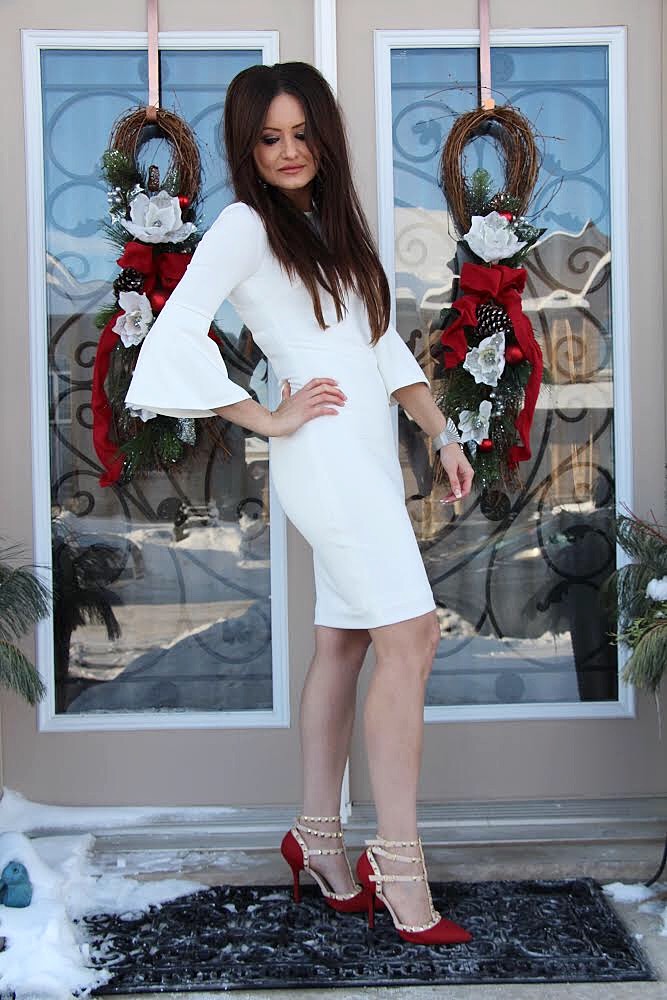 Dress: Calvin Klein (Here)
Shoes: Valentino Dupes (Here)
Earrings: H&M (Similar here)
Bracelet: Gift
Happy New Year beauties! 2018 is finally here! I am off to a fresh start and looking forward to seeing what the new year will bring me! I wanted to thank all of you for following me on my blogging journey and for all the sweet compliments! I truly appreciate it! Please feel free to let me know what you would like to see more of on my future blogs and what I am not doing enough of…that will help me to get to know more about my readers, what interests you the most and what you would like to learn from me.
I cannot believe the holidays flew by so quick and I am back to work this week. It was so nice to have a week off from my day job to relieve stress, catch up on my sleep which made a difference and getting together with family and friends. Had a chance to do some shopping for myself after Boxing Day with a good friend of mine and use some of the gift cards I got for Christmas. I finally made it to the gym during the holidays, two days in a row since I was starting to feel better from feeling rundown. Hopefully it stays that way when I am back to the grid.
My New Year's resolution (I shouldn't say I have one, lol) is to focus on my health since I do have some health issues, l plan on changing up my diet to include foods that contain more vitamins, cutting back on carbs and keep more active. I am not going to worry too much about little things in general, what people think, say and not stress myself out -knowing that I can only do what I can do and what doesn't get done is ok since then there's always tomorrow and the next day after. I am the type that tries to get everything done all at once which can take its toll on me and now l just have to remind myself to slow down a bit and take better care of my health. That's my motto for 2018!
Ok, now to my outfit details, I know I am tad bit behind on the holidays style and just catching up on it. I wanted to share with you this elegant dress (here) I am wearing! It is by Calvin Klein and it was on sale for $69 before Christmas! I was so excited because I had my eye on that dress back in the summer time and didn't want to pay the full price. You can't go wrong with a Calvin Klein dress for under $100 right?! They come in other colours as well and I just love the white the best.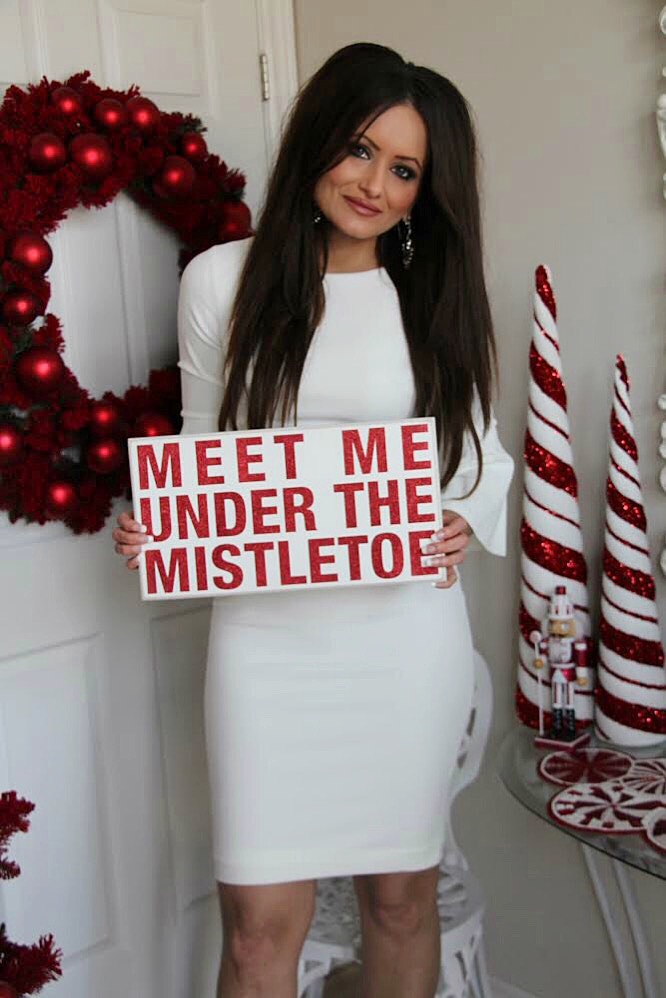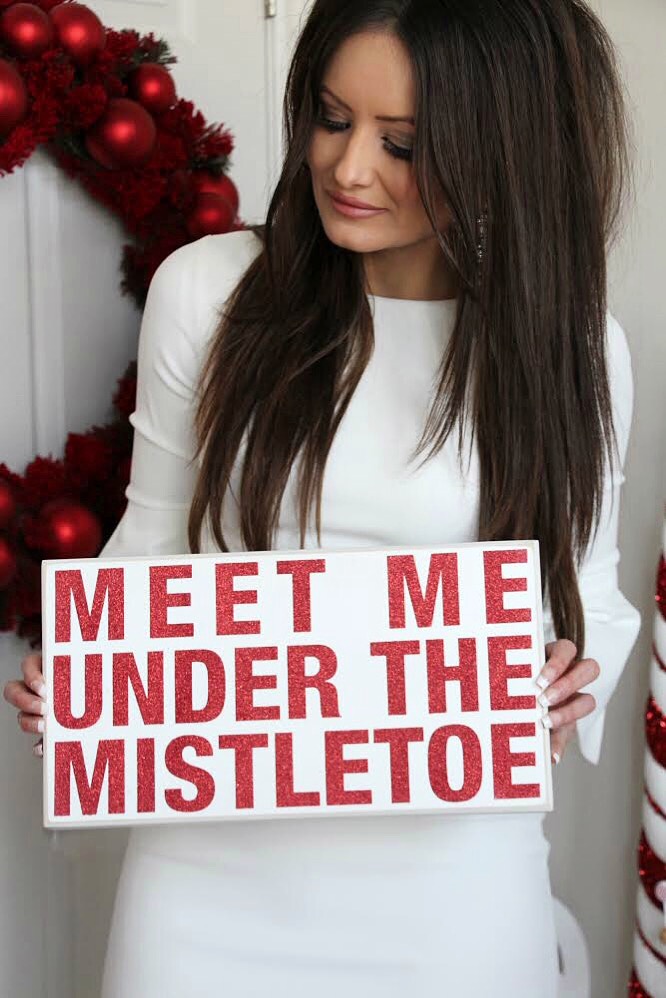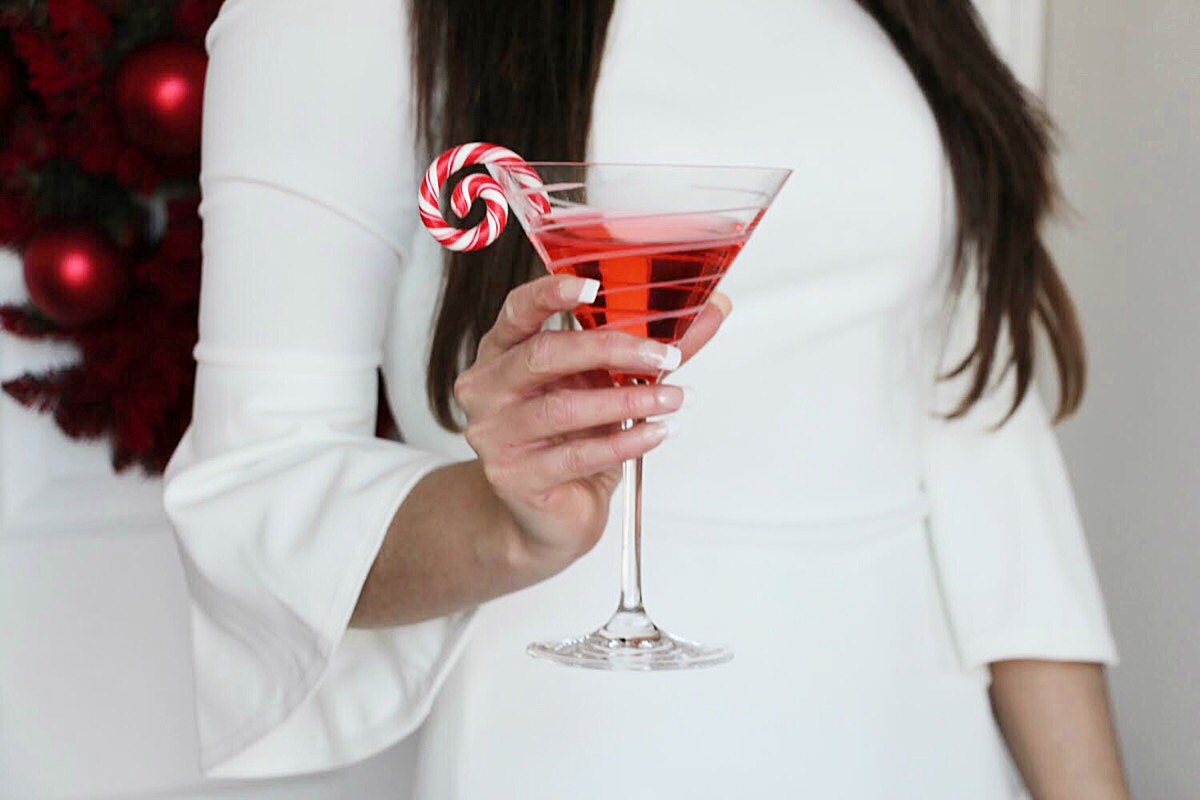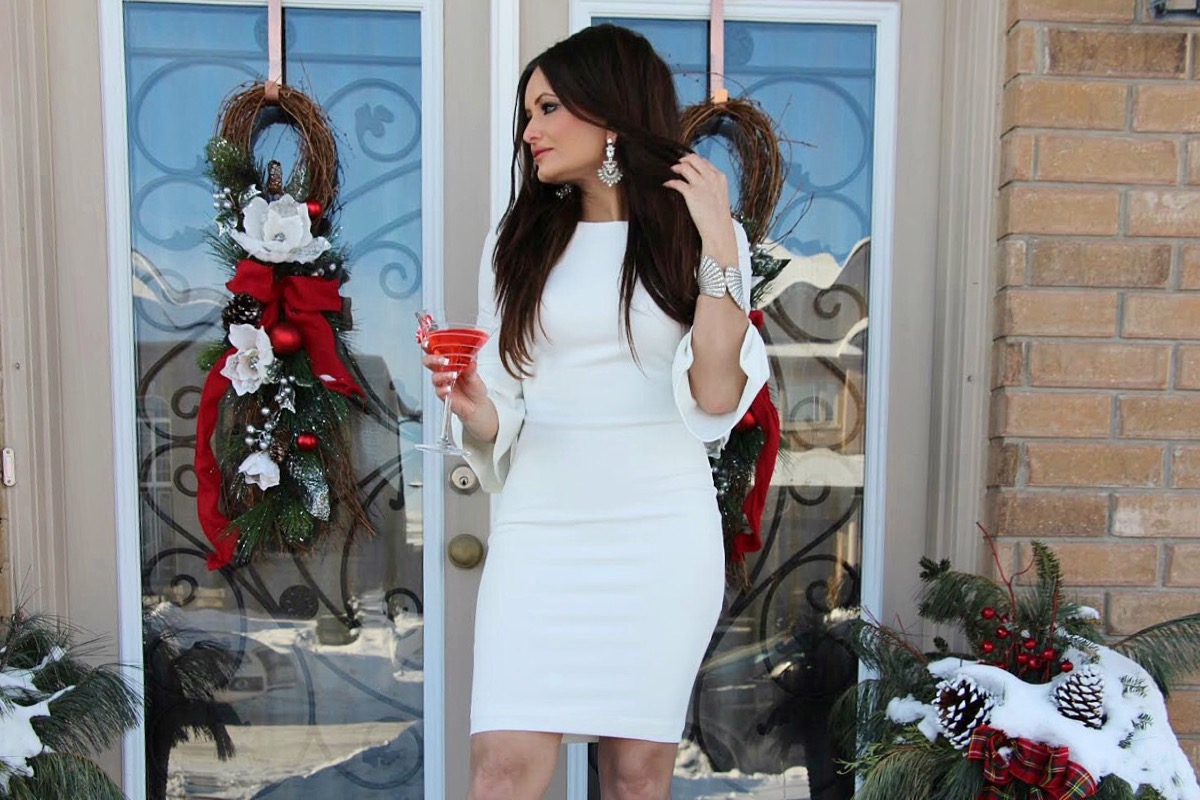 I love the idea of wearing winter white during winter season – it's a dress that can be worn for Christmas parties and New Year's Eve. Plus you can wear any colour shoes with a white dress and I decided to wear my red Valentino dupes (here) which makes the dress outstanding! In case you are wondering how I found these Valentino dupes, actually it was my Mom that found them at a thrift store and thought it would look cool for one of my blogging photoshoots since they were like $6. This type of dress can be worn in all seasons and there's no right or wrong with when you can wear right. I don't follow that fashion rule where you can't wear white after Labor Day, that's too old school for me! Lol
This dress is still available in this and other colours as well for this awesome price and I've linked it at LIKEtoKNOW.it if you are interested in purchasing it!