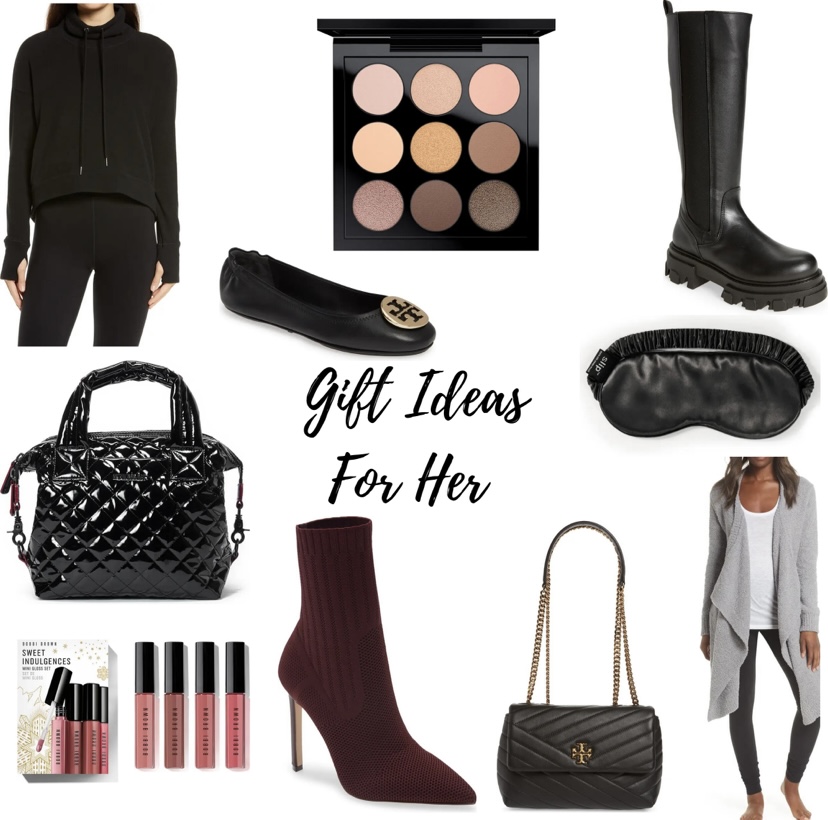 The holidays are fast approaching and I have rounded up a variety of gifts for her from Nordstrom. Shop for your friends, family or significant other. If you come across anything that interests you to purchase as a gift, all you have to do is click on the item and it will direct you to the website to purchase.
Hair tools and hair products make a great gift!  Women need these items, especially since we care for our hair on a daily basis. These all are great brands, I have always wanted to try the Trio curling iron as I have seen people raving about it on Instagram.
Also, the round brush blowdryer is a must have, I have the Revlon one and basically it's the same idea…I love how soft and shiny my hair looks. It saves you time from using a regular blowdryer then using a flat iron to smooth it out. This is all in one….Definitely worth the splurge!
These quilted bags and teddy bags are trending these days! A must have to use for gym, work or travelling. I have two quilted bags one in glossy black and a smaller one in grey that looks similar to the second picture just a different brand. Definitely,  a great gift idea for someone who is in need for a good tote bag. 
I must say winter outerwear  is definitely a must have and great idea as a  gift especially if someone is in need. The first two are by Soia & Kyo which is my fave brand, I own two!  The black jacket in the  second pic I have in a cream colour but style like in the first pic. They are so warm and light wear. It is more affordable compared to other popular brands. 
Sentimental gifts always make the best gifts, people always appreciate them. It is so easy to pick out jewelry especially if you know their taste and know that it's something they would wear.
I have to say that I have been so obsessed with this pillow talk lipstick and lipliner by Charolette Tilbury since last Christmas. It has been my new favourite and I just love the nude colour. I  enjoy wearing it on a daily basis, it's  lasts long and rarely ever needs a touch up. This set definitely makes a great gift! 
Lastly, sleepwear and slippers always makes the best gift as we all need new sleepwear and slippers to start of the New Year right. Barefoot Dreams is the best lounge wear and you can't go wrong with this soft fabric. Who wouldn't love it?! Be sure to grab one for your loved ones and don't forget yourself! 
Hope these gift guides are helpful and let me know if you have any questions! Happy shopping! xo