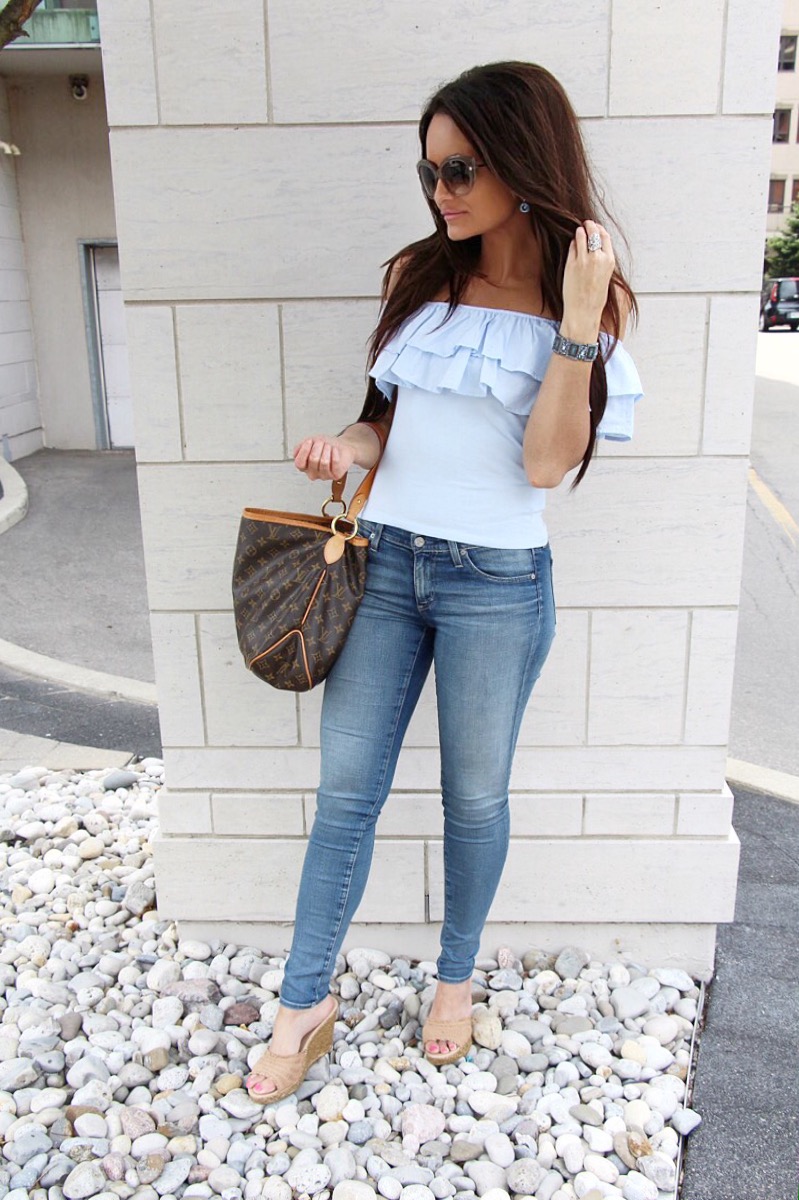 Photoshoot location: Burlington, Ontario
Top: H&M (here)
Jeans: AG (here)
Wedges: Aldo
Purse: Louis Vuitton (here)
Bracelet: Le Chateau (Old)
Earrings: Swarovski (here) 
Hey beauties! Wow I can't believe that July has gone by so quick and August is here! August is my favourite month because it's not only my birthday month but I also share it with my Mom, sister and one of my friend's birthdays! It is always a crazy month with these celebrations! 😉 I am a little sad that we have one month left of summer until fall comes to enjoy the rest of the summer.
Okayyy here are all my outfit details…I haven't worn baby blue in ages and when I saw this off-shoulder ruffle top at  H&M , baby blue wasn't my first choice. I was going to get the white but they only had one left in my size but there was some make up stains on it:( So I thought why not try on the baby blue and see how it looks. I loved it on me and thought I should get that colour for a change! This top came in black, white, baby blue and hot pink! Ruffles are so in for this season and I didn't want to miss that out! As for these Kate Spade sunglasses I am wearing, I have been receiving so many compliments on them but unfortunately they are not available at this point especially in this colour but available in similar colour (here) and in brown (here)
Be sure to shop my items through LIKEtoKNOW.it and stay in the know! Happy shopping!

Love always xo