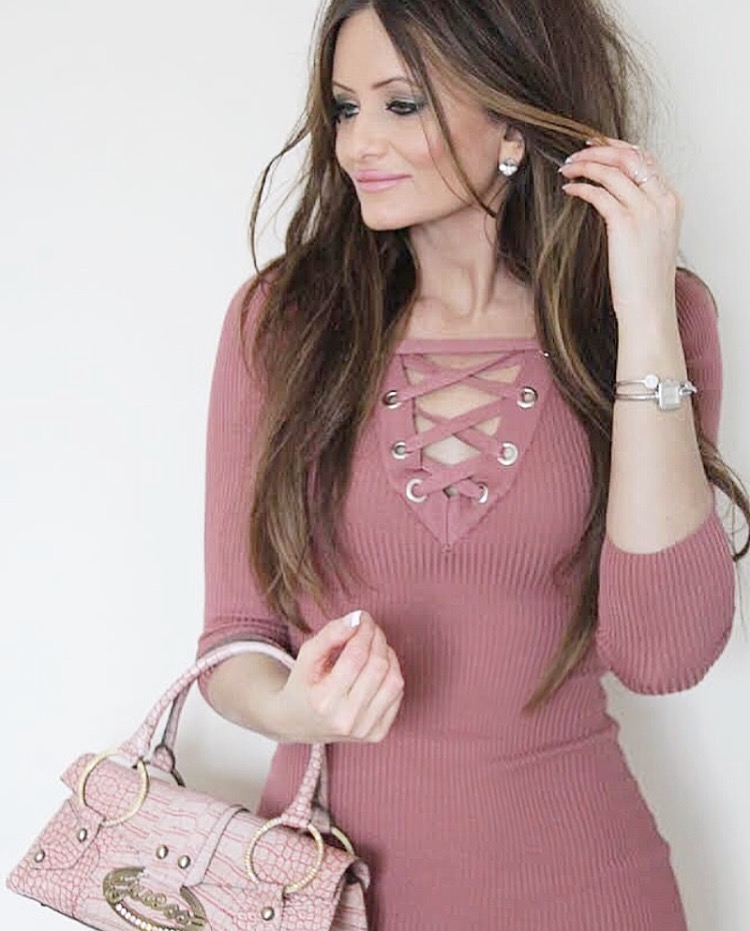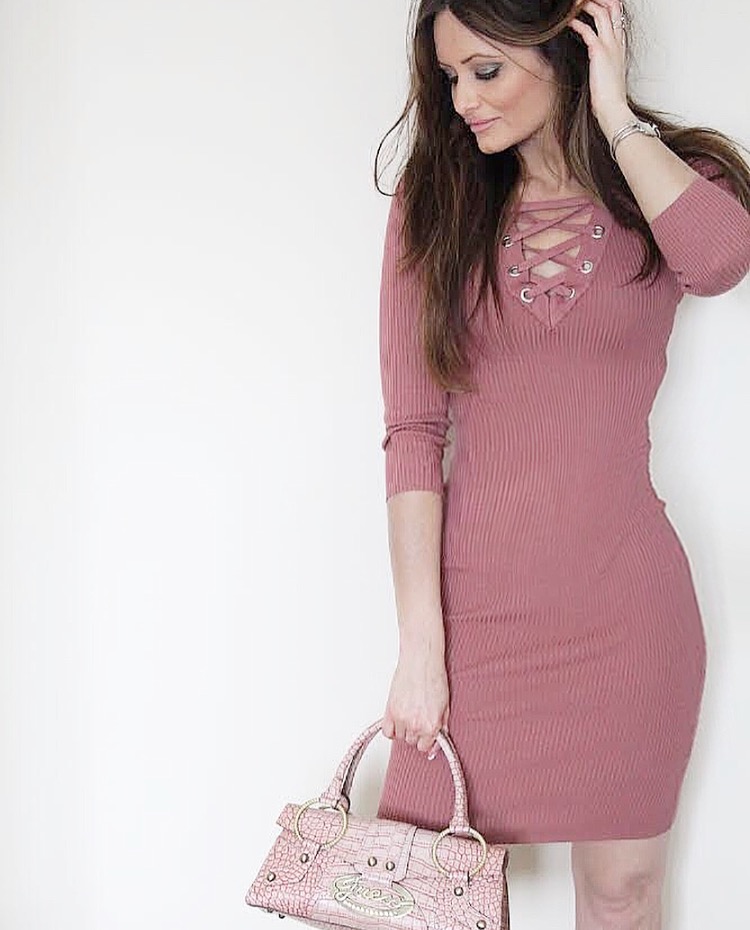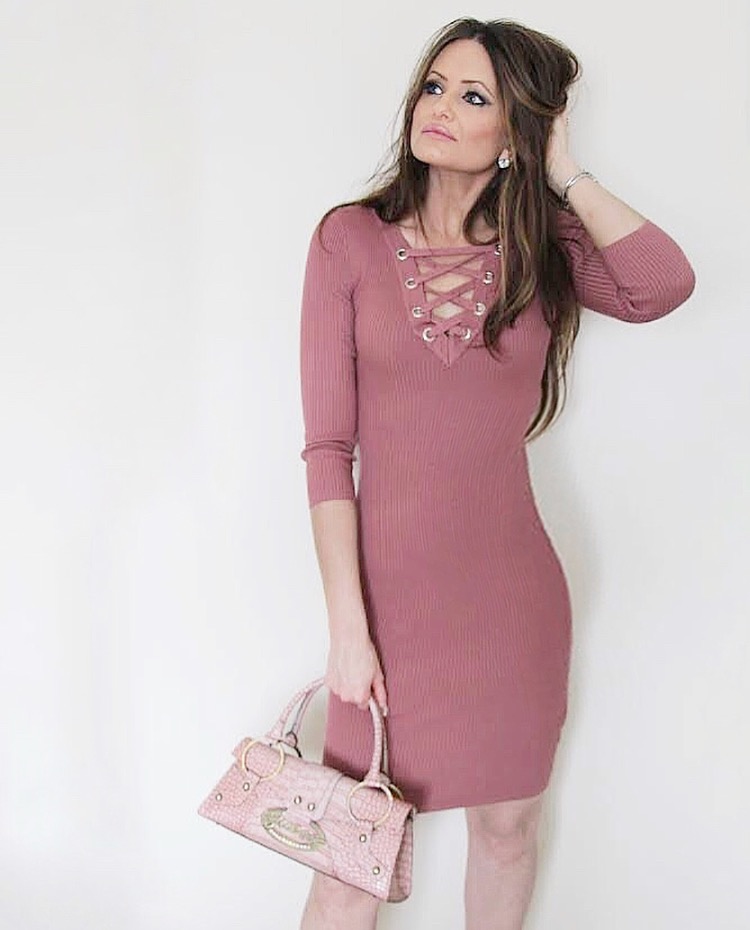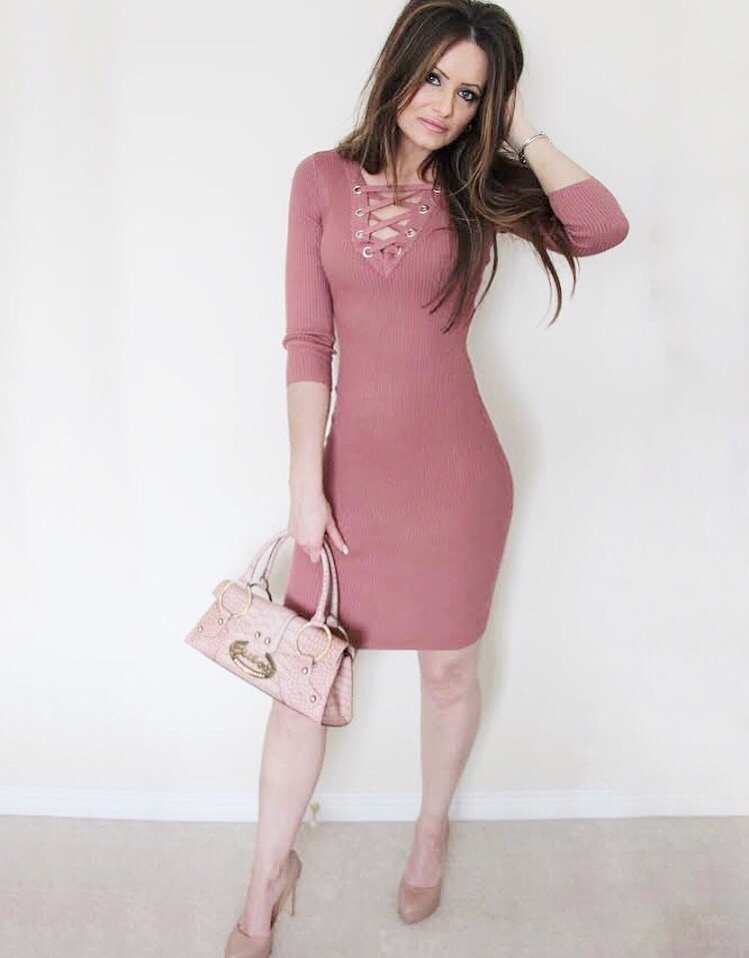 Dress: Almost Famous (Winners) (here)
Shoes: Steve Madden (Similar here) & (here)
Purse: Guess
Watch: Gucci
Bracelet: Anarchy Street
Yay just in time for a Valentine's Day post! I told myself that I was not going to get behind on special occasion posts just like I was tad bit behind on the holiday posts.
This winter has been unpredictable this year which makes it difficult for me to plan for photoshoots outdoors especially if the roads are bad and don't want to drive in it. I am not too crazy with the idea of indoor photoshoots because the lighting isn't that great and it makes it difficult for the photos to turn out good. So I had to do a photoshoot at my place indoors to post my Valentine's Day outfit. Sorry if my photos aren't that great! (I blame it on the weather lol)
About this bodycon sweater dress I am wearing, I purchased this at Winners in the fall and I am just obsessed with blush pink! I loved this style of dress with the lace up details on the front and back. Plus, the length is just perfect – not too short and not too long. This dress can be worn in any season as it's so versatile. I have to say this is the perfect colour to wear for Valentine's Day – it's perfect to wear on a date and if you're single, why not get together with a group of ladies, get all dressed up and head out to a lounge for dinner and celebrate the joys of being single – you never know you might run into;)
Valentine's Day is not just for couples celebrating, you can celebrate Valentine's Day with a group of girlfriends, or with family. It's also fun getting out and putting yourself out there to meet that special someone. I won't be celebrating Valentine's Day this year because it falls on a Wednesday, which is a bummer as l don't do well going out on a work night – it's hard having to get up early in the morning to go to work. Staying home and ordering in while watching a romantic comedy or two is a fun weeknight way to celebrate if you're not up for going out like me! Hope you ladies have a fabulous Valentine's Day! Xo
And one more thing before I go – this dress comes in black as well and both of these colours are still available in all sizes. AND ON SALE for $35.