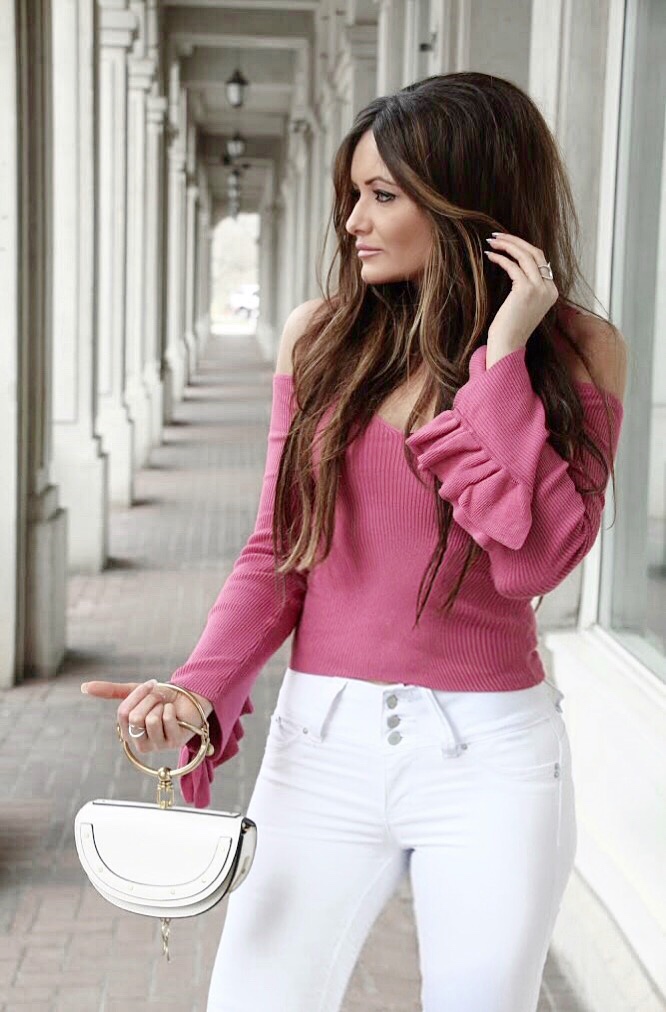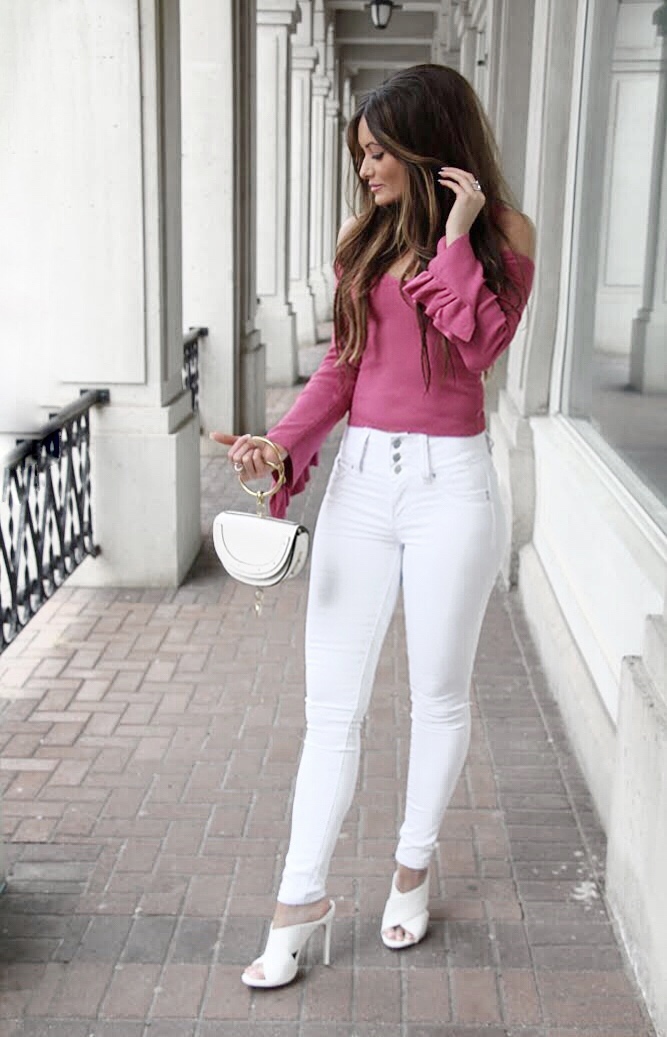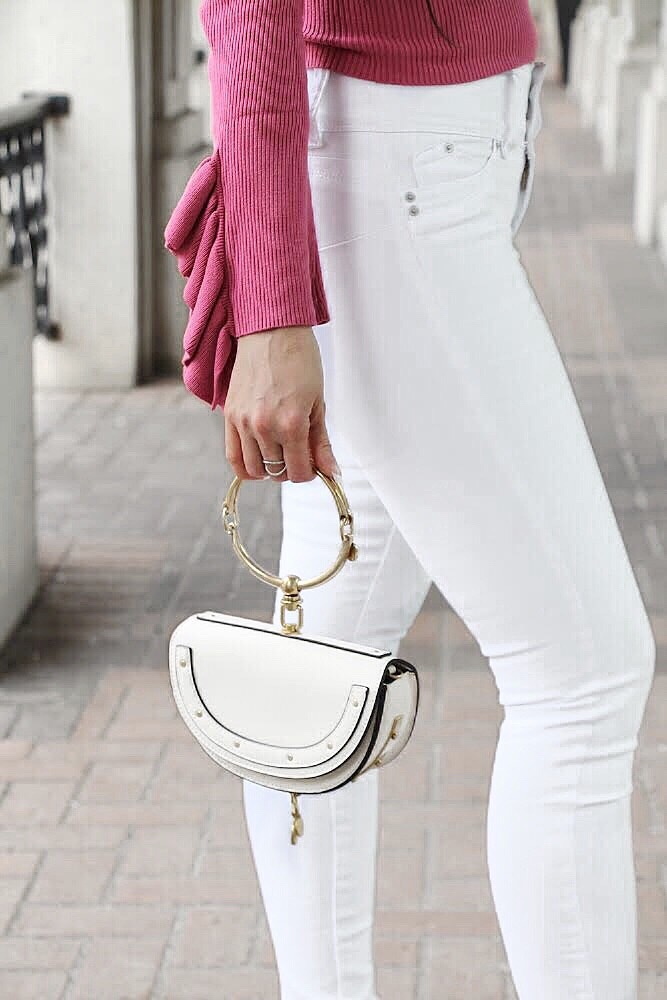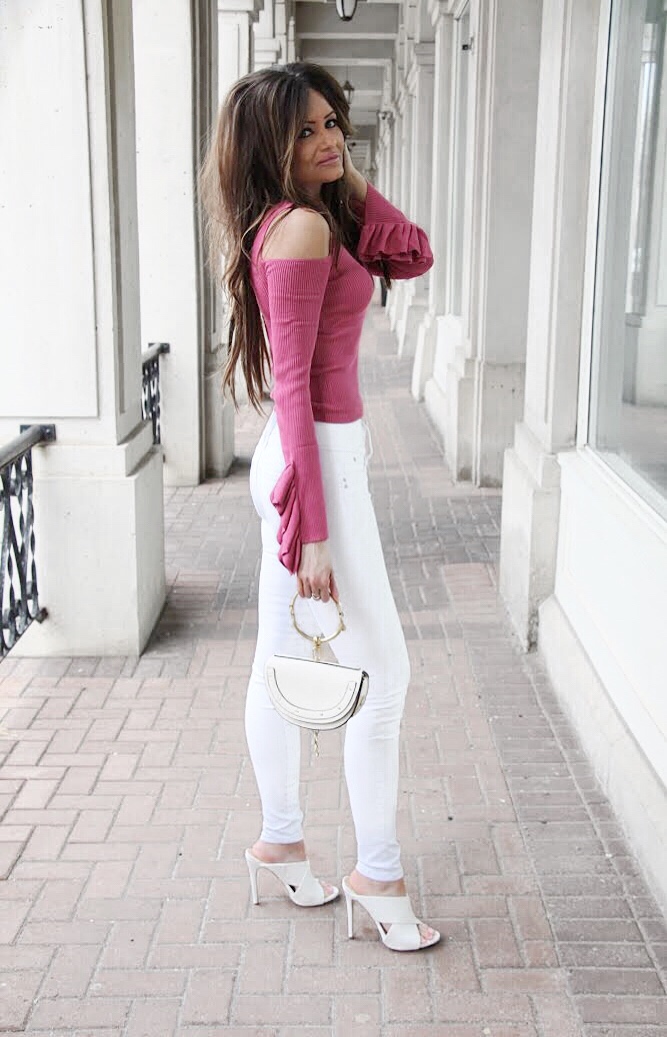 Photoshoot location: Burlington, Ontario
Top: Express (here)
Jeans: YMI
Shoes: Shoe Dazzle (Similar here) & (here)
Purse: Chloe dupe
Heyyy Friends! I hope you all had an awesome weekend and were able to get up early on Saturday morning to watch the Royal Wedding! OMG l only had like 4 hours of sleep on Friday night because l was watching a movie and catching up on blogs at the same! Plus I was so excited to see the wedding and couldn't sleep! So I set my alarm for 4am and got out of bed around 4:15am got ready, quickly put my make up on and fixed up my hair to head over to my sister's house to watch the wedding as the guests started to arrive. She invited me and my Mom over for a high tea party and told us to wear our fasicators – she even decorated her family room with British flags on the fireplace mantle. She has always been a big fan of the Royal Family.
It was actually fun watching the wedding and interesting to see what the celebrities were wearing and their amazing fasicators. I was starting to fall asleep nearly at the end of the ceremony and my mom was like don't miss it, it's nearly over. Well not really, after the ceremony they showed them on a carriage going through the town of Windsor. It was a long wedding but it was worth watching it. I did nap a little when I left my sister's house because that evening my mom and I had a wedding to go to out of town. We ended up leaving the wedding early around 10:00pm. We left when they started the dance because my mom was tired and I didn't want to stay out late either and we still had about an hour drive home. It was a crazy weekend filled with weddings! It's funny cause even on tv they were playing a bunch of wedding movies on TV.
Now onto my outfit details – I just can't get enough of my new cold shoulder sweater (here) that I purchased online through Express. It was on sale for $20 and I am already hooked on cold the shoulder style! I love the V-neckline and the little ruffle details on the sleeves, how cute is that?! They come in other colours – black, taupe and red. I also finally found a perfect pair of white jeans that look more sliming. It took me a few years to find the perfect pair because every pair of white jeans or pants made my thighs look wider and legs look short. Plus, a lot were see-through in the butt area and even the pocket lining which is the worst.
These jeans I am wearing are by YMI, they're mid-rise and the fabric is amazing – thick enough so it's not see-through and you can't even see through the pocket lining. I know a lot of women have a hard time finding the perfect pair of white jeans because some white jeans are not made properly or the right way to give off a sliming look. Since white is a colour that can show a lot of your flaws, you just have to find the right pair. I was so frustrated last year trying on white jeans and thinking that they don't know how to make jeans especially in the zipper/fly area… it was like I had to keep pulling up the jeans because they weren't fitting properly. Sad thing was they were high end brands from Off Saks. I don't do well with 7 For All Mankind, Mothers, JBrand, or Joe's but I only own one pair of black JBrand jeans and one pair of distressed Joe's. The ones I do well with are AG, Calvin Klein, Hudson, Diesel and Guess. I know I seem odd when it comes to finding jeans, my jeans have to look sliming for me and I have to feel comfortable in them.
Anyways that's about it for now. So do any of you ladies have issues finding jeans that actually flatter your figure? Are you picky like me when it comes to finding jeans? I'm curious!:)