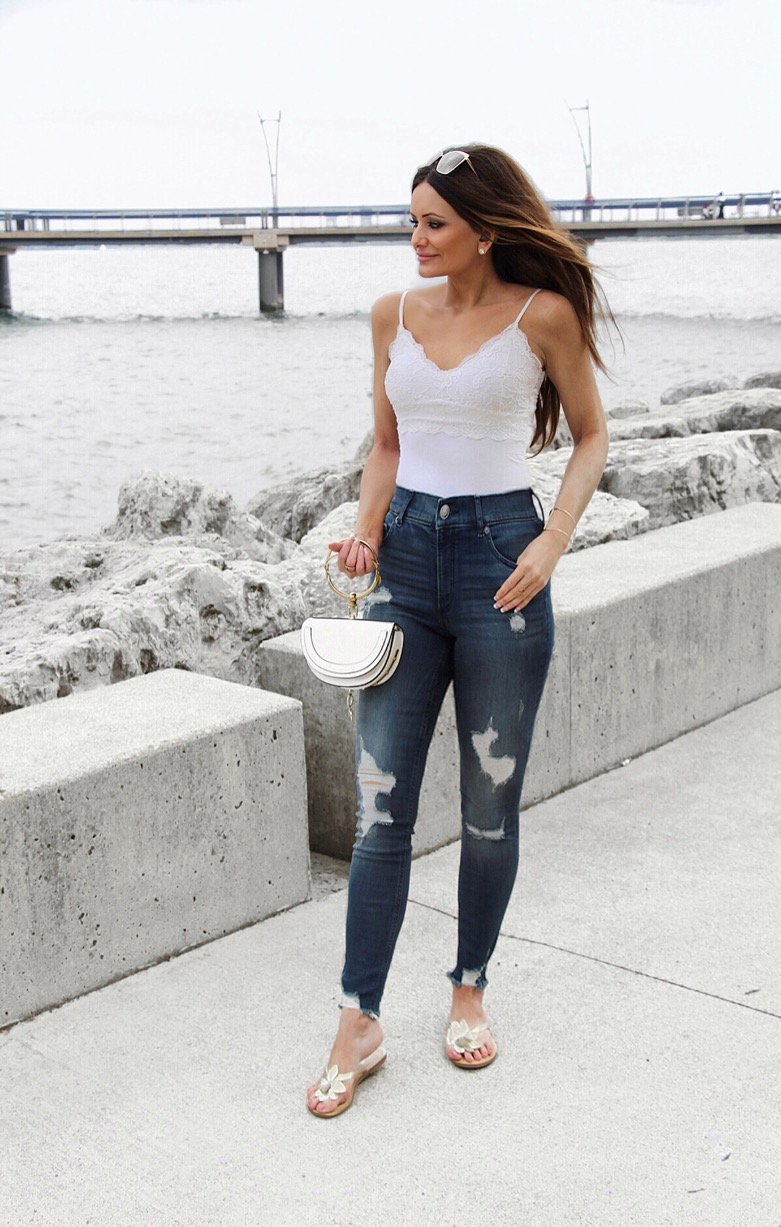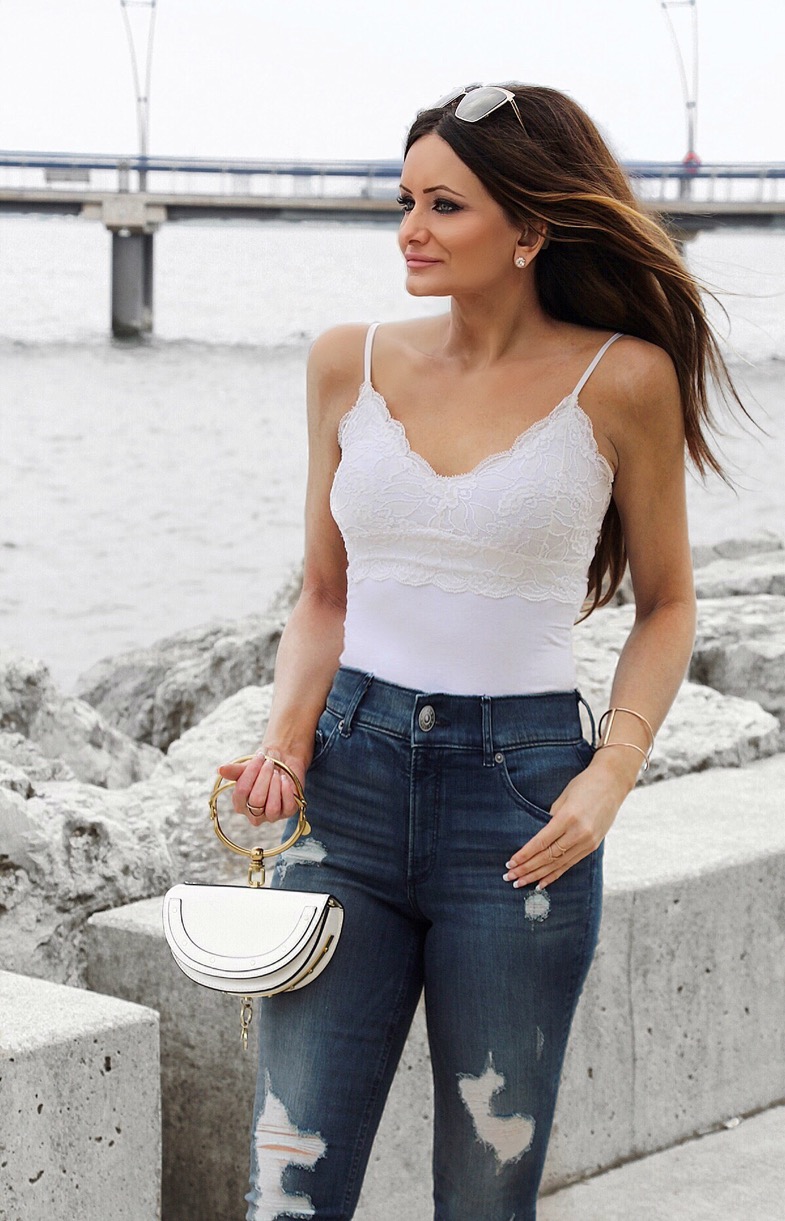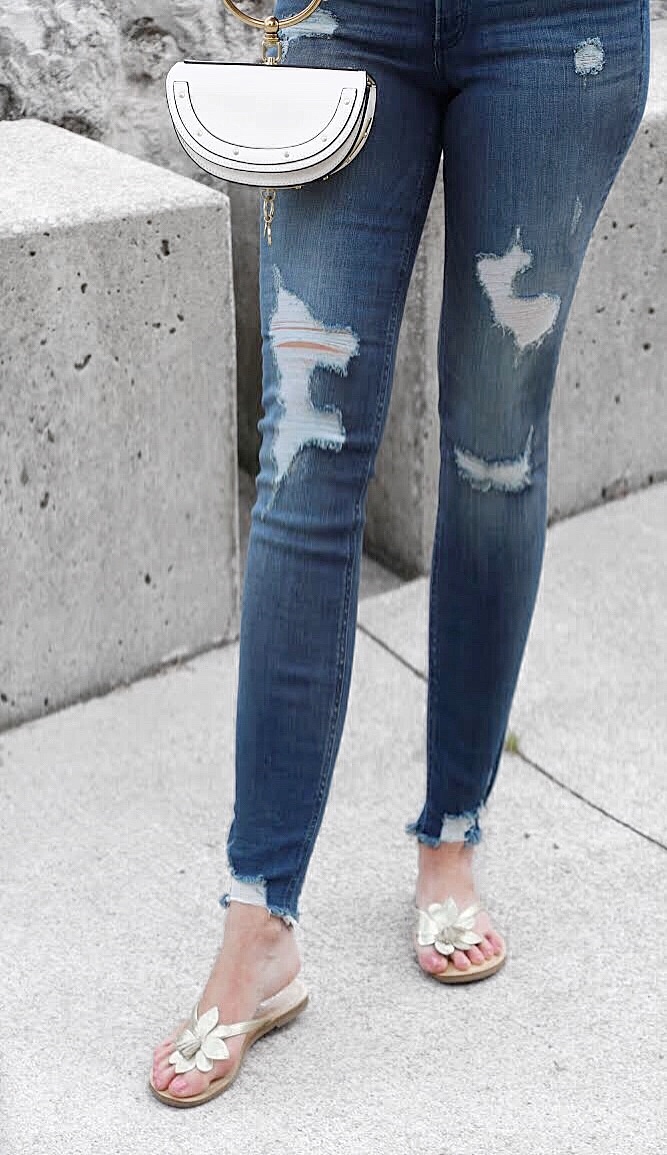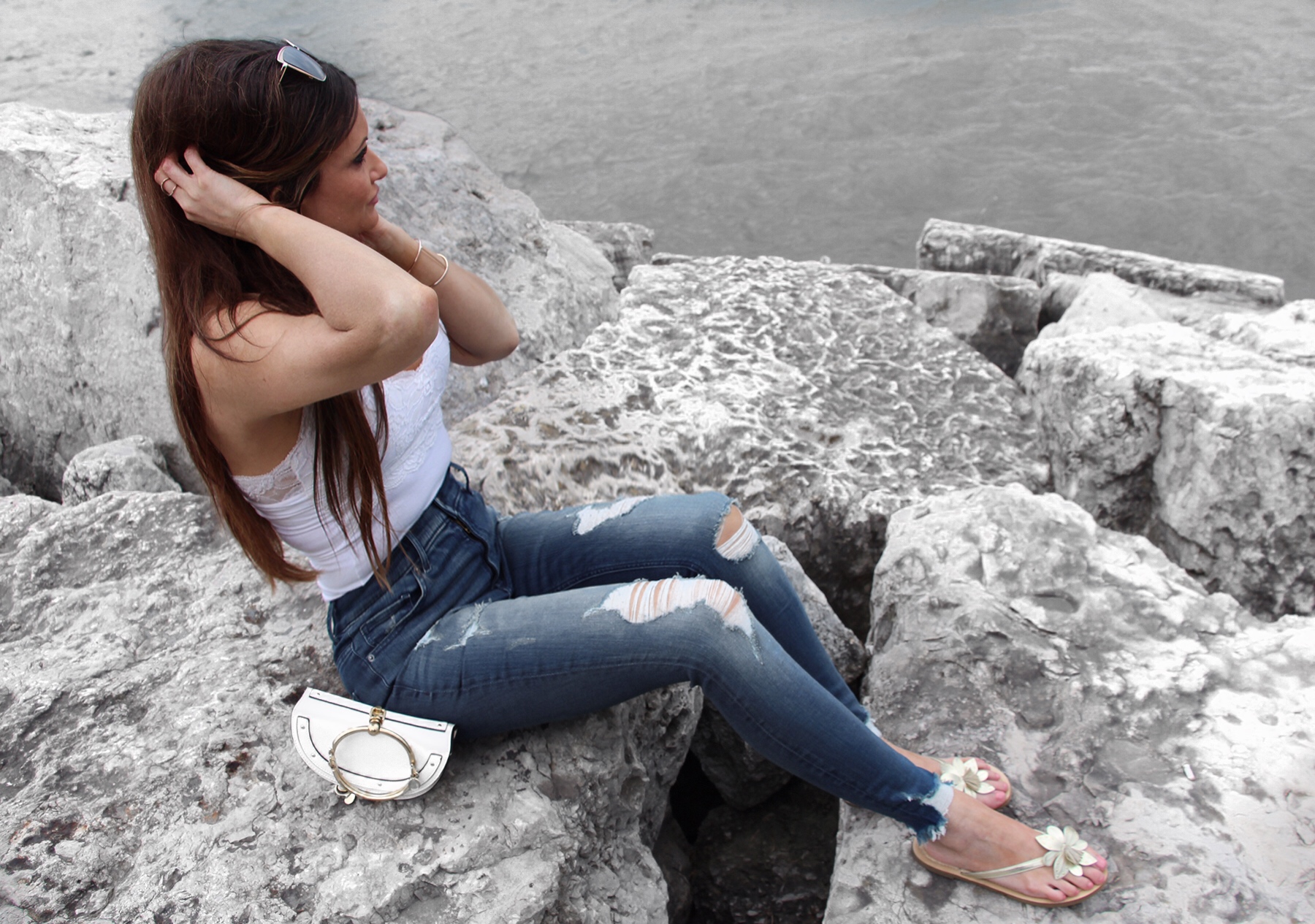 Photoshoot location: Burlington Lakeshore
Top: Costa Blanca (Similar here)
Jeans: Express (here)
Flip Flops: Alfani
Purse: Chloe Dupe (here)
Hey babes! I wanted to share with you my current outfit details! It is one of my fave summer casual outfits to wear on the weekends.
These are the best high waisted jeans I finally found for myself. They flatter my figure and not only that, they are absolutely comfortable! I especially love that they are a stretch denim. I purchased these distressed jeans online from Express. They closed all the Express stories in Ontario and only have one at the Eaton Centre mall in downtown Toronto which is a bummer!
I am wearing size 6 and I am sure I could fit into a size 4 but I looked at the size chart which showed that I am in between both sizes which can be tricky when ordering pants online. I was lucky that it fit well and looked good – so it was my lucky guess! Lol. As for this top, I have been receiving compliments but I've had it for years from this store called Costa Blanca which is no longer around and this top is not linkable.
Another thing I wanted to share with you is this Chloe dupe purse and how I found a really good dupe that looks just like the authentic one. You can find them on Amazon or Ali Express but Amazon is more expensive. So I purchased mine on Ali Express for $59 and I am very careful when ordering a dupe online. I usually look at different ones and zoom into the photos to make sure it looks well made. Plus, I always read reviews to see what other people say. If a lot of the reviews say it's true to the photo and quality is good then I know it's worth a buy.
I was impressed with how well this bag is made and the fact that it is real leather which surprised me for this price. The details of this purse looks exactly like the authentic one at the retail store except that it does not say Chloe at the bottom and the texture of leather is different. Mine has more of a smoother leather and at the retail store it's more of a rougher look but for that small purse it retails for over $2,000 which I think is ridiculous because it's such a tiny purse. I know I have mentioned before in my other blog post about Chloe bags, but I personally wouldn't waste $2,000 on a tiny purse like this. What I love about this purse is that it has more of a dainty look for going out for a wedding or any other event. But the only disadvantage is that you can't put a lot in it. Just the basics you need that can fit – car keys, phone, gum, lipstick, eyeliner, cover up compact and tiny wallet to put your money and ID/bank and credit cards. I've linked up some items LIKEtoKNOW.It
That's about it for now! Hope you all had a fabulous weekend! Love always xo