This year I have been obsessed with smock tops and it seems to be back in trend! I hope it will stay for a while because I just love them! What I love about these tops is that depending on the style, it can flatter your figure, hide your flaws and a bonus for covering your stomach if you're bloated. Its all about the little details that helps to hide the flaws and flatter your figure. As opposed to a fabric that is just flat which makes your flaws noticeable.
Smocked tops are great to wear especially women in their 40's and up! If you want it to flatter your figure and  it's age appropriate as well. Especially like this one I am wearing that I had purchased this from VICI a few months ago…I love the style of this top especially it has a bit of peplum style to it. This top is perfect if you are feeling bloated and the ruffles at the bottom will make it less noticeable!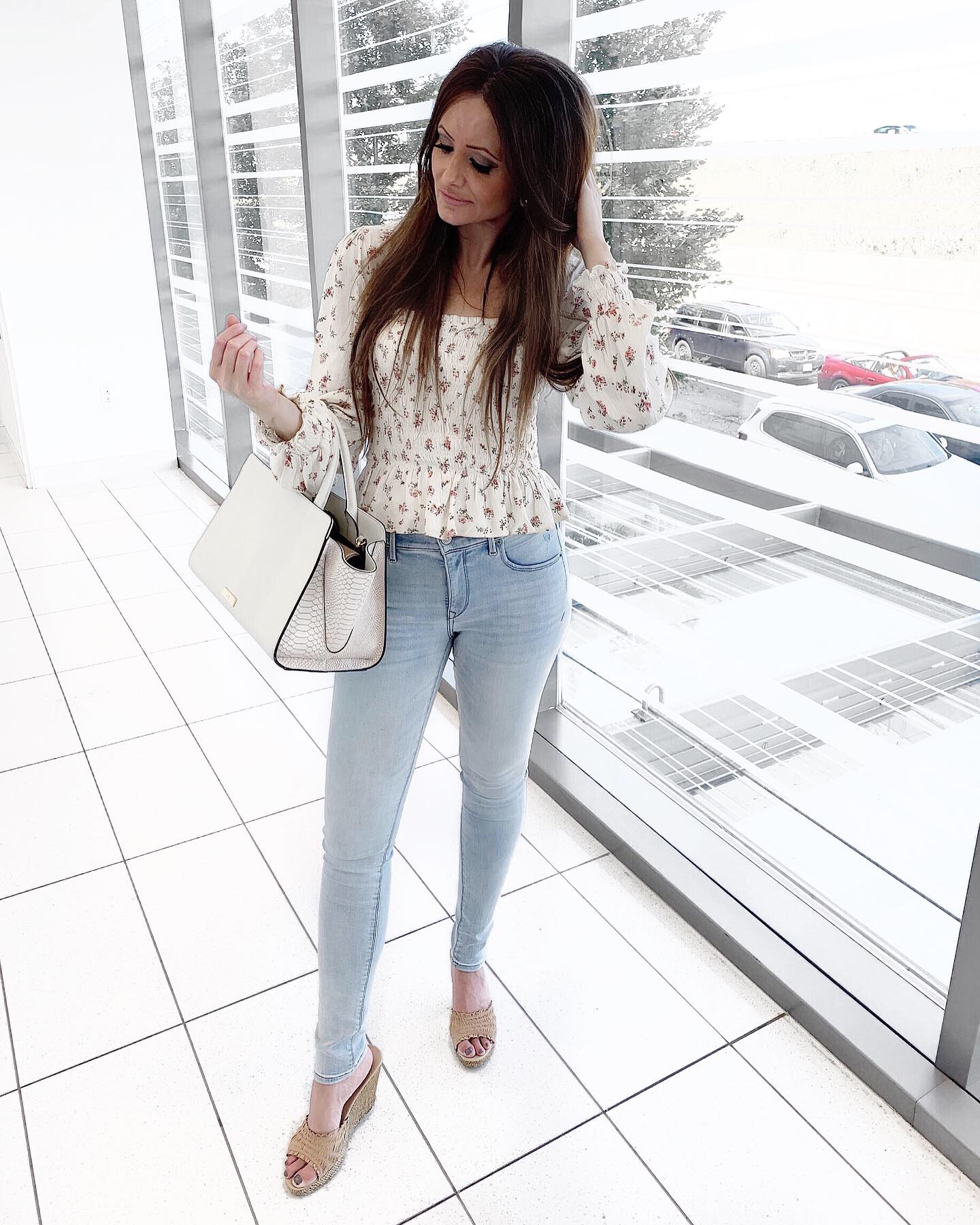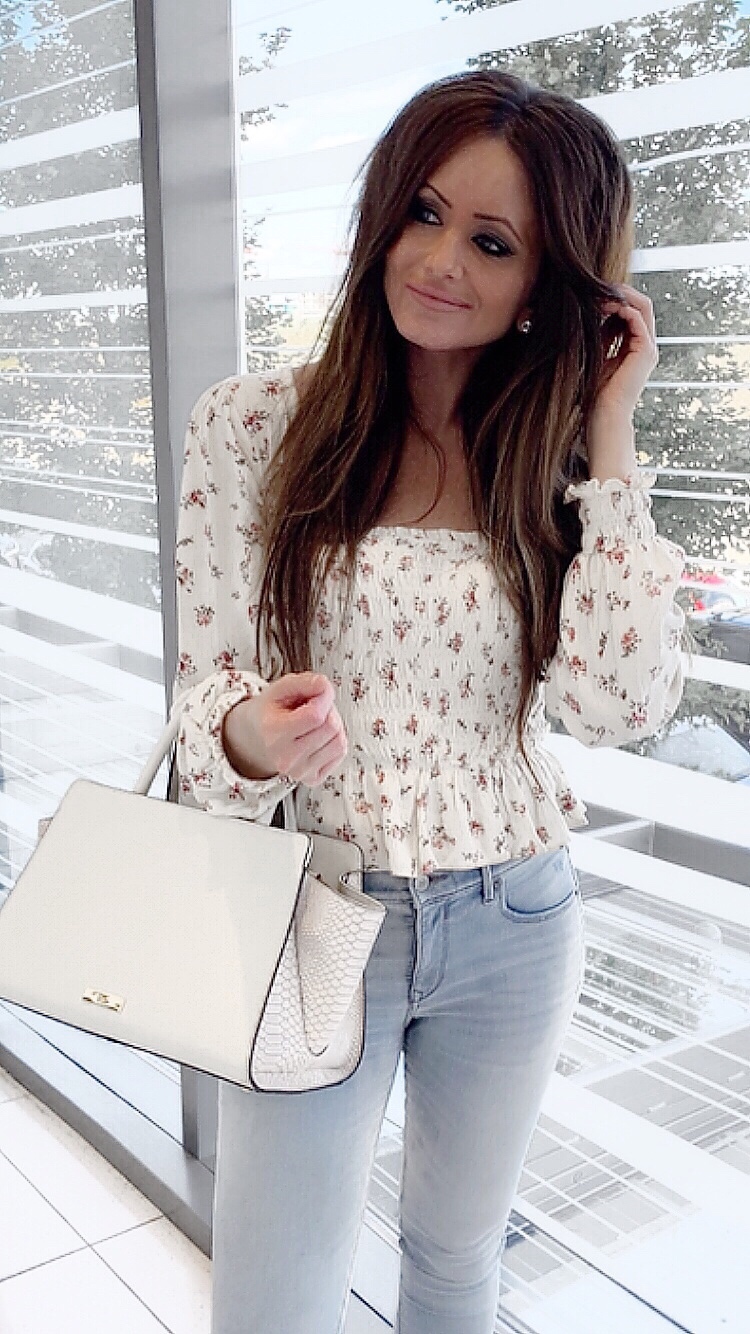 This top is perfect for spring and can transit into Fall with a pair of dark denim or light denim like this one (here) I am wearing. This mid rise denim  (here) from Express is super super comfy! It has a stretch fabric that you feel comfortable in and it fits in all the right places…so you can wear them all day long without feeling like you can't wait to get home to throw on a pair of leggings!
Unfortunately, this top is sold out at VICI, but I linked a similar style (here) & (here). VICI has lots of cute smocked tops in different styles and worth the price!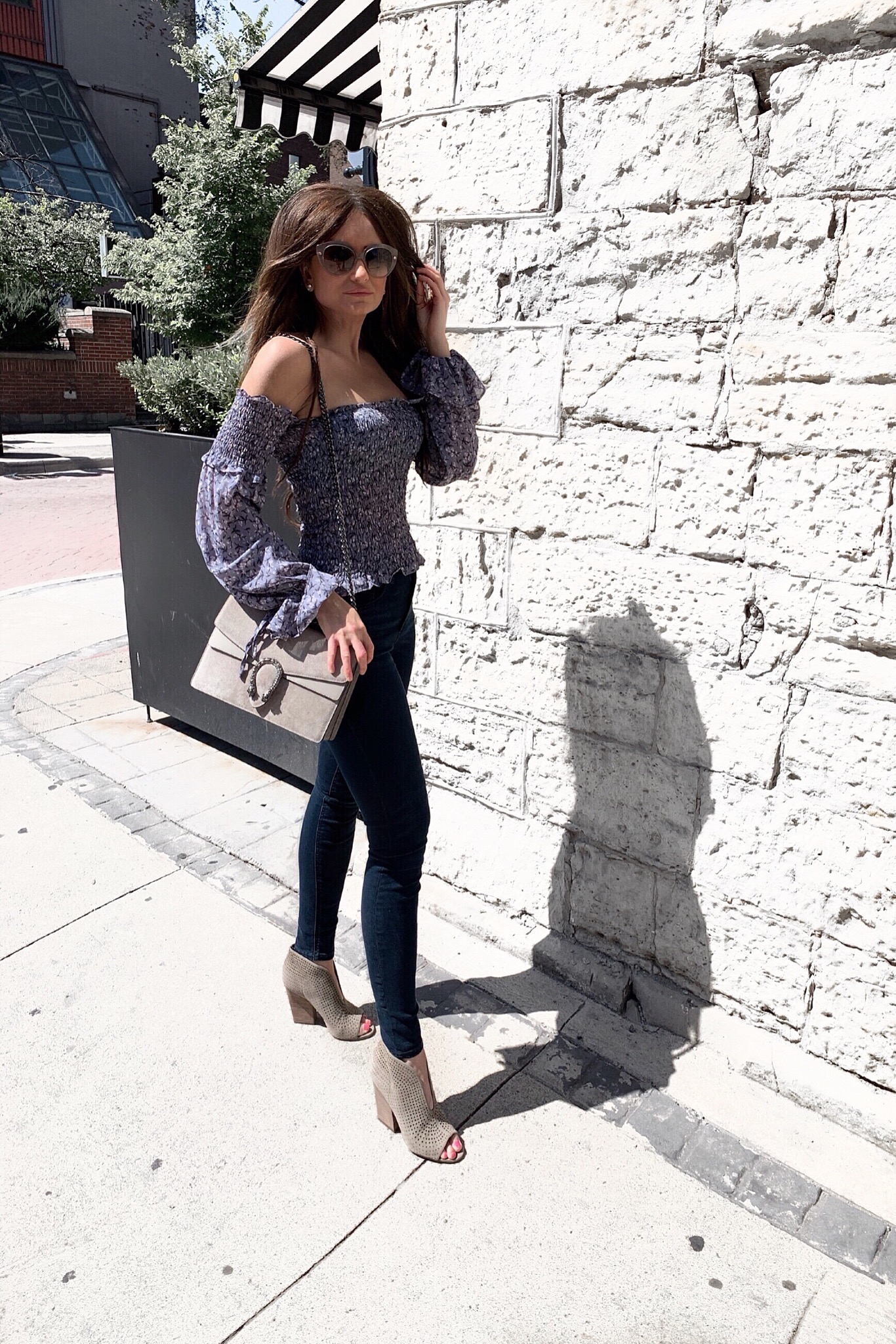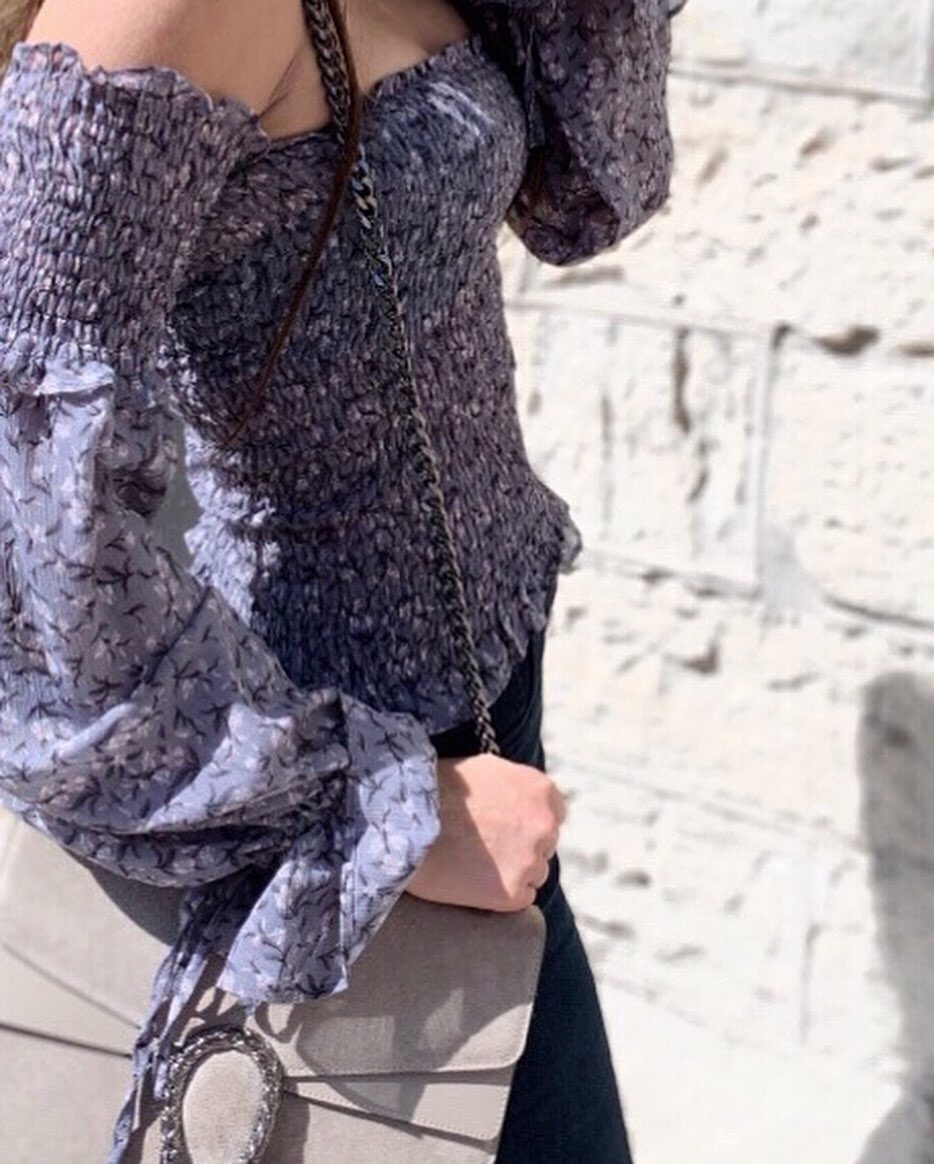 Now about this one here, I purchased it when it was on sale at Mendocino Boutique in the Toronto area. I love this colour , you can wear it both seasons Spring or Fall! I love  how versatile it is that you can wear it with a light colour pants or dark colours as well. I love the details of this top especially the off shoulder look for  the weekend and the puffy sleeves is super adorable! Funny thing I was thinking if I ever got tired of the puffy sleeves I can always cut it off and this top will be just for summer! I am usually creative with things like that especially if I want to change something about that top or dress. Unfortunately this top is not linkable with LIKEtoKNOW.it and found a similar style like this one but in a different colour (here) & (here).
Also these dark super high waisted jeans (here) I am wearing is from Express as well and they are super comfortable to wear but the fabric is a bit thicker. Best to wear them on colder days.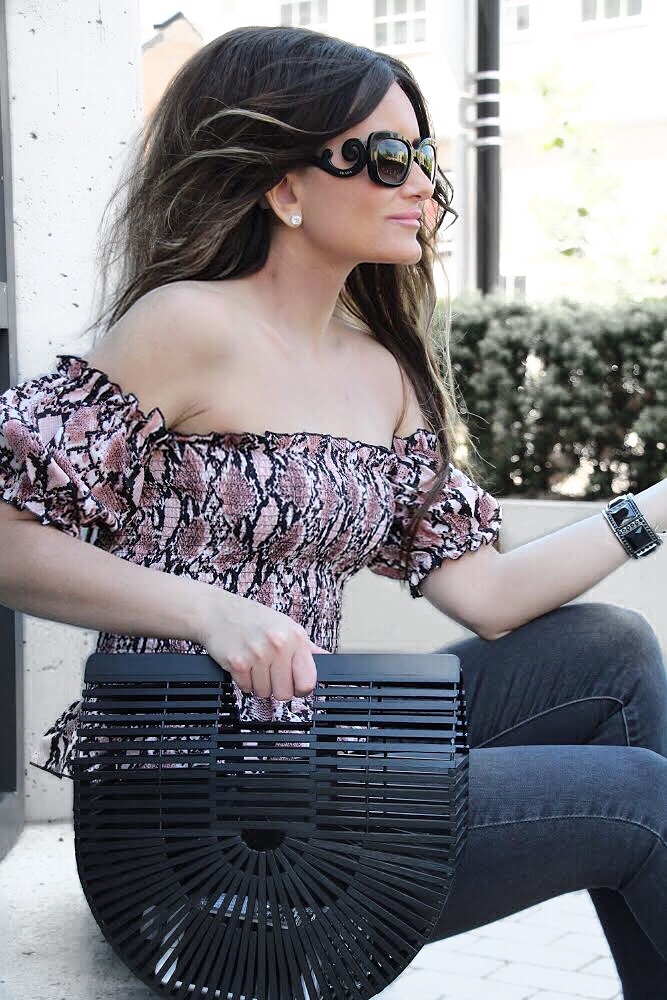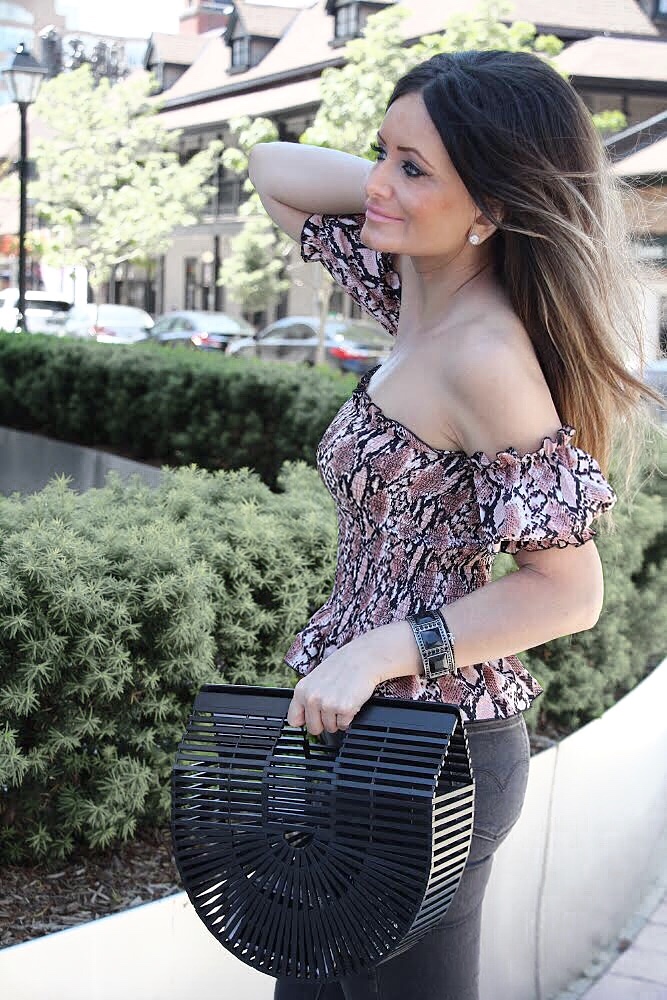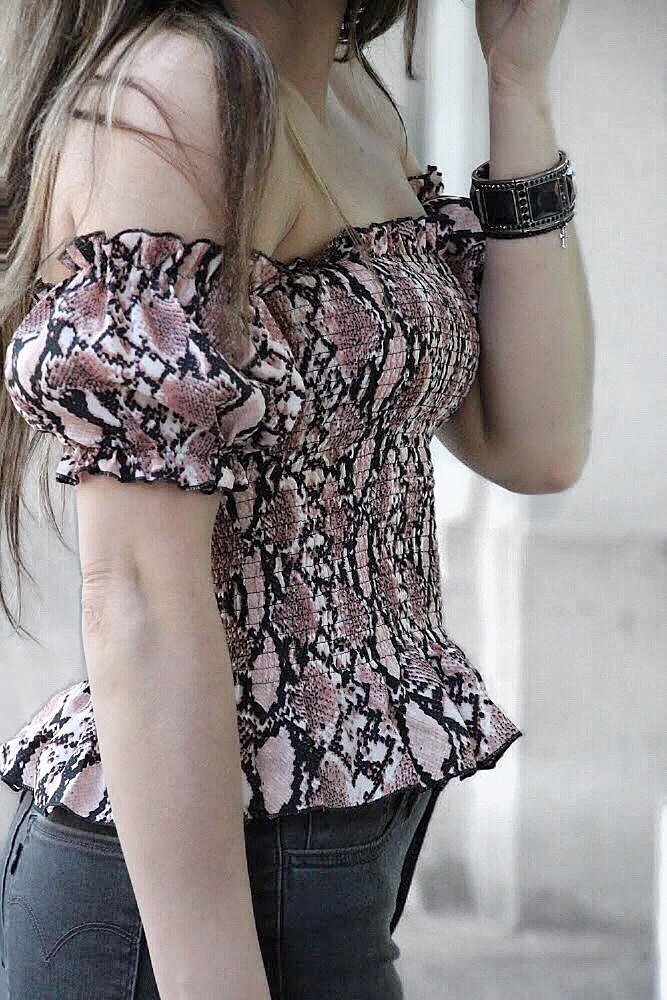 Here is another fave one I had purchased online from Shein early summer…I love the pink snake skin pattern and the off shoulder look with little puff sleeves especially for hot summer days! I love how it flatters your figure and how it finishes off with the little ruffle details around the stomach area. This top can be dressed down or dress it up! It would look super chic with a pair of faux leather leggings or a skirt for a night out!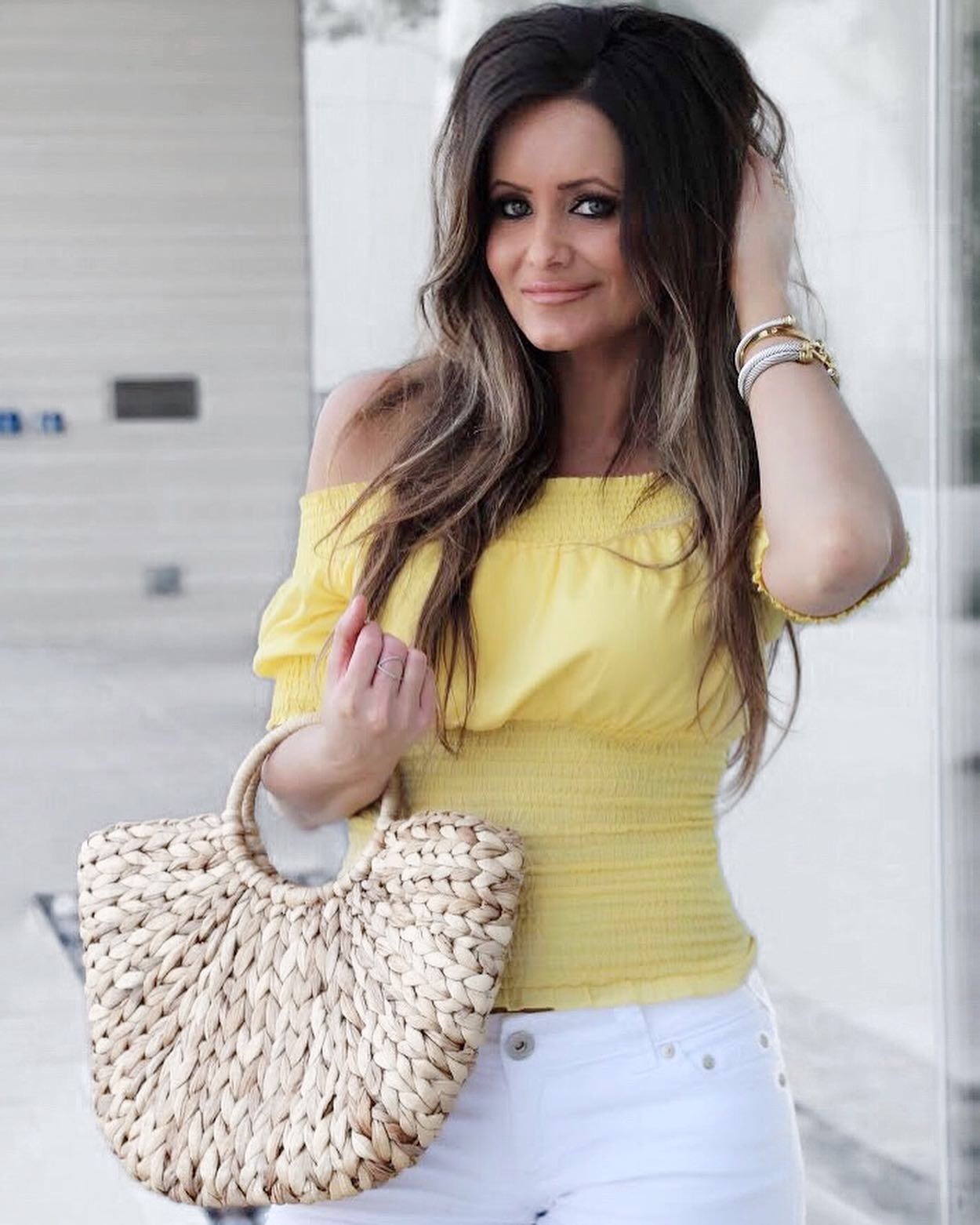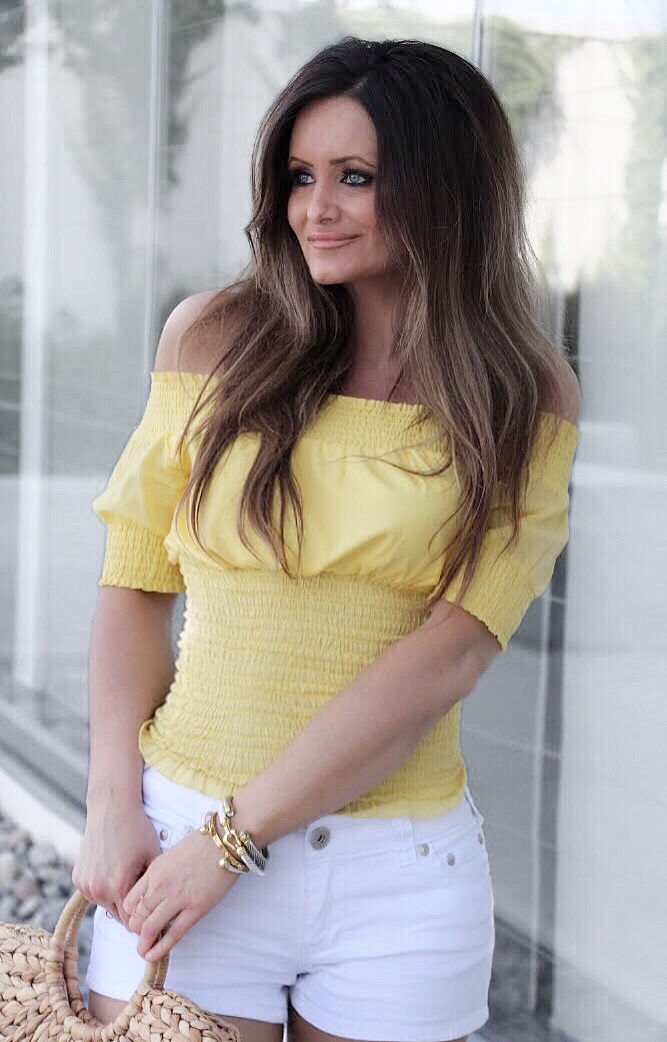 So about this yellow off shoulder smocked top its from Guess but I had this for 10 years and haven't worn it for the last couple of years! I was about to get rid of this top to sell at a consignment store because I'm no longer crazy about bold colours.  So my Mom was like are you sure you want to get rid of it? I just kept it just in case you decided to do a photo shoot in it. I am not sure if I am going to keep it much longer it's hard to decide on this one I linked a similar one (here) .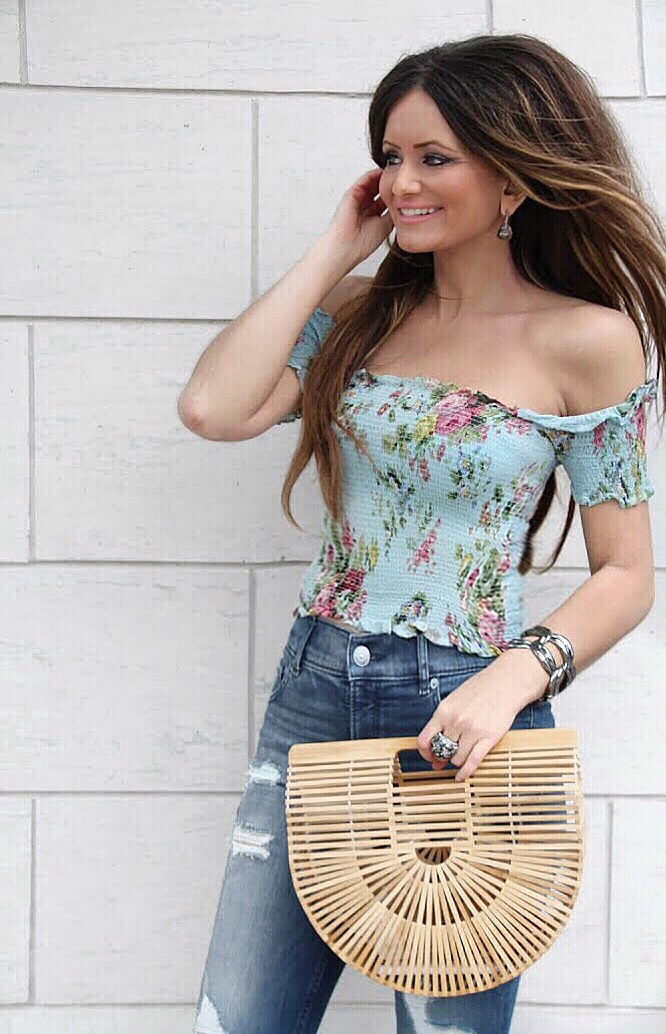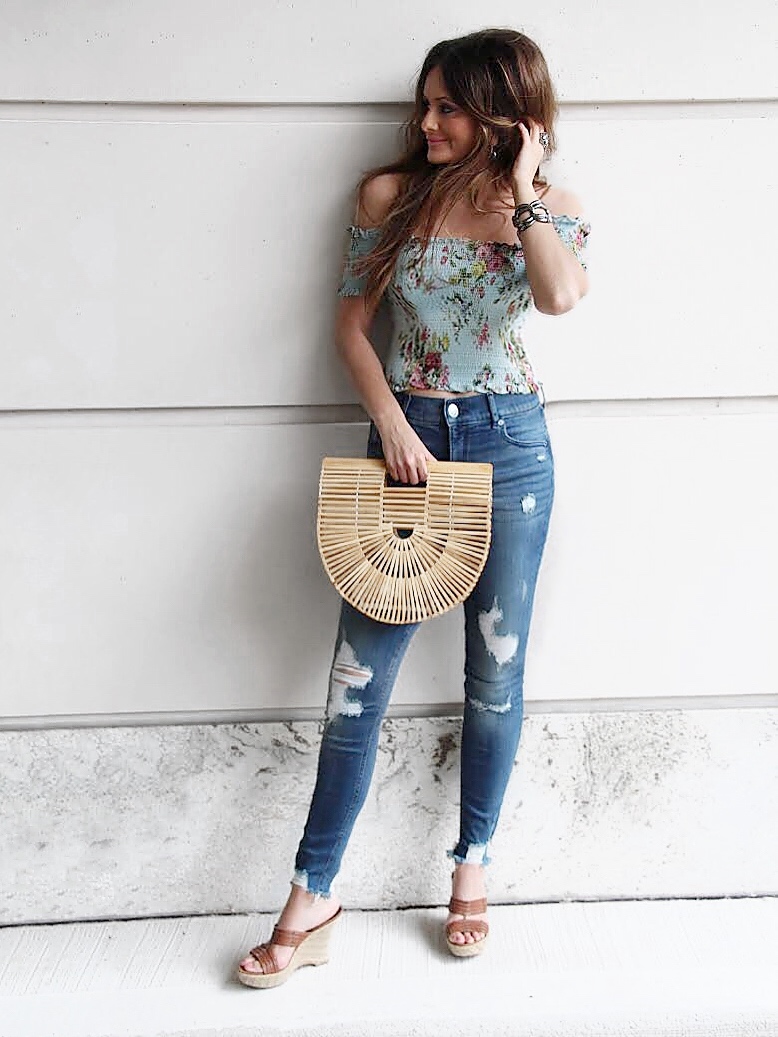 Lastly, this floral crop smocked top is timeless! I had this since I was 22 years old…how crazy is that?! I kept it but didn't wear it for the longest time. I've worn it a couple years ago one summer when I was going out to a beach party in Toronto, I paired it with a pair of cut off denim shorts. I prefer to wear this crop top with super high waisted jeans, shorts or even a skirt for the summer! I still can't let go of this one!  I love the colours and how they flow well with denim.
That's about it for now!!! Until next time and I hope you enjoyed this post! A variety of my smocked top styles!
Are you ladies big fans of smocked tops?