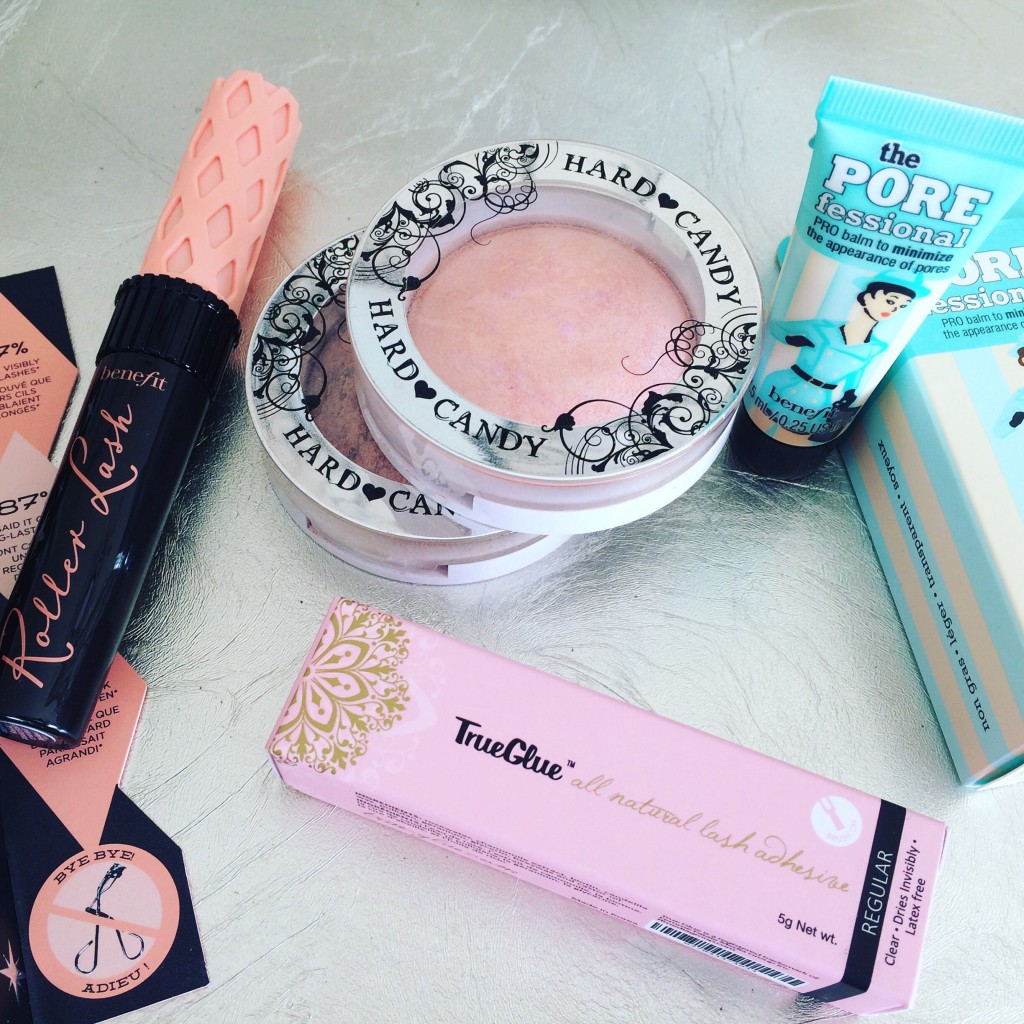 Here are my Top 4 make-up goodies that I enjoy using on a regular basis:
1. Benefit's the PORE fessional
2. True Glue all natural lash adhesive
3. Benefit's Roller Lash mascara
4. Hard Candy's Blush Crush Baked Blush in Honeymoon
I totally love using the PORE fessional. This product is very popular as it does wonders to give you a flawless look. I apply it first on a bare face where your pores are most noticeable like on your cheeks, nose or chin – depends on you – everyone is different. Then I apply foundation next and then powder. It sure does make my pores look invisible and it gives my complexion a flawless look! I absolutely recommend you try this product and you can purchase it at Shoppers Drugmart or at Sephora. It also comes in a mini version so you can pick that one up first to see if you like it.
Roller lash by Benefit is one of my favourite mascaras that I started using as it makes my own lashes look longer. It applies nicely on your lashes without getting that clumpy effect. A must try!
I tried True Glue adhesive on my lashes about a year ago and I'm hooked! This product is all natural which is one of the reasons why I love it. This glue really does hold the lashes for long periods of time and it doesn't come off. Apparently this glue makes your own lashes grow longer but I don't use it on regular basis to see if it actually worked on me. True Glue does not have that sticky feeling like most lash glue has and this one lasts longer. You can purchase this glue online directly on their website.
My go to blush is always Hard Candy and I've been using this brand for 5 years and love it! They also have a great line of bronzers as well. Hard Candy is one of my favourite brands to use as they are reasonably priced and have a great variety in products.
I purchased all these goodies at the IMATS Make up show event in Toronto that is held every year in the Fall. You can get really good deals and buy lots of great beauty products. Make sure you go check out the IMATS make up show and be sure to get tickets early as the price goes up closer to the event. It is a must go to show! 🙂