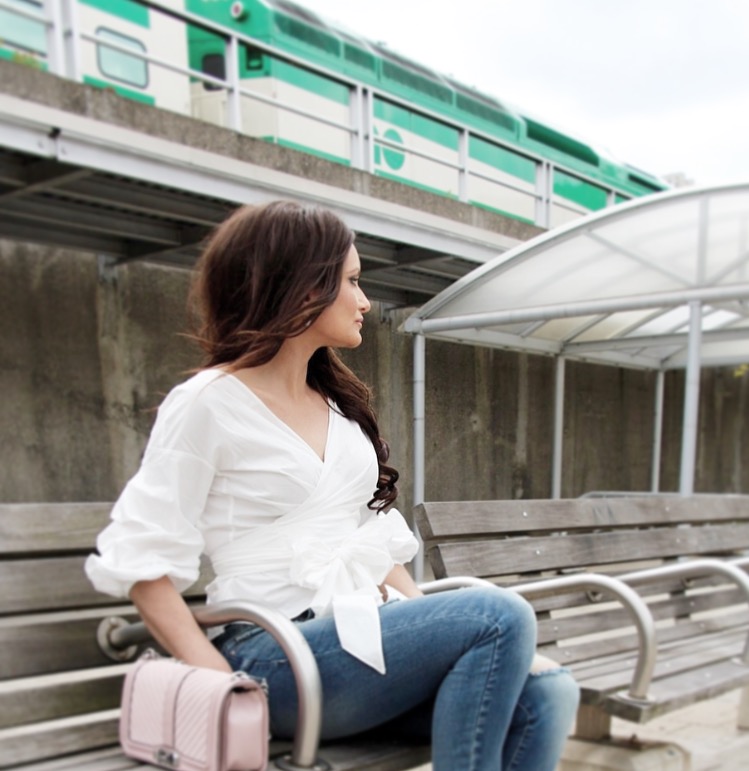 As you might be wondering what I mean by my topic – my purpose, my calling….I'll fill you in. Well, now that l have been blogging just over a year, I first started out wanting to focus on launching myself, growing my blog and connecting with other bloggers before I started getting more personal about myself. I was new to the fashion blogging world, so I wanted to take it slow, day by day to see where it would lead me. I see that I have accomplished a lot from over a year ago and I have connected with brands and many amazing, inspiring women in this blogging community.
I thought it was about time for me to finally share my story so all of you can get to know more about me, why I started fashion blogging and it might be a surprise or a shock to you or you might find it inspiring!

We all have something that is not perfect about ourselves, we may feel that we are not good enough or smart enough or pretty enough, etc… And we tend to feel self conscious and lack confidence.
As for me, at the age of 2 my parents discovered that I had a profound/severe hearing loss because I wasn't speaking or being responsive to them compared to other 2 year olds. Unfortunately, they do not know the cause of my hearing loss. I was born with damage to the Auditory Nerves. There is no family history of hearing loss…so this was just a "fluke" according to genetic testing.
This shattered their whole world with so many worries and anxieties about what the next steps would be for me –  how I would do in school and what would happen to me in my adult life. They started off with a hearing test and getting me fitted with hearing aids so I could start hearing.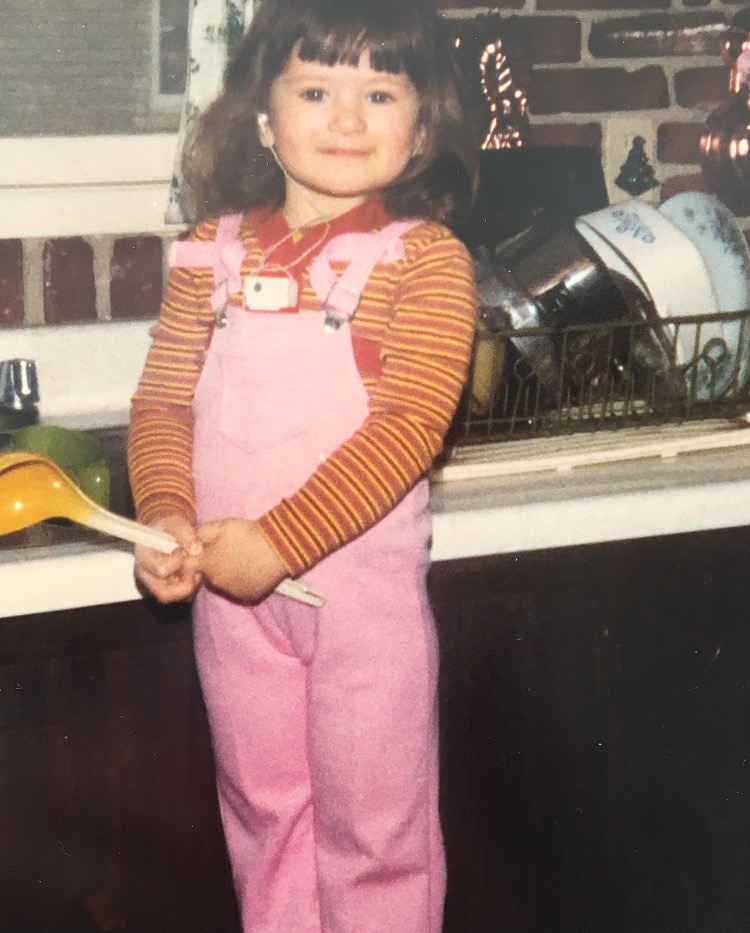 (Me wearing my trial hearing aids before I got my own actual aids)
One day, my Dad's boss at work showed him an article about this woman named Louise Crawford who was a special teacher for Deaf children at the Hospital For Sick Kids in Toronto. She was very well known and a very successful teacher who helped many deaf children learn how to speak, read lips and not rely on sign language. This gave my Mom and Dad hope that I would learn how to speak and not have to rely on sign language. My parents booked an appointment for me to meet with Louise Crawford and I was able to get a spot in one of her classes.
At the start when I was working with Louise Crawford, it took some time for me to say one word and to pick up on certain sounds….I believe it took months. Then miraculously one day I finally started making sounds and was able to say one word which was a blessing to my parents! From that point on I was able to speak more words and I was a quick learner. I learned how to read at the age of 3 and learned how to read lips as well.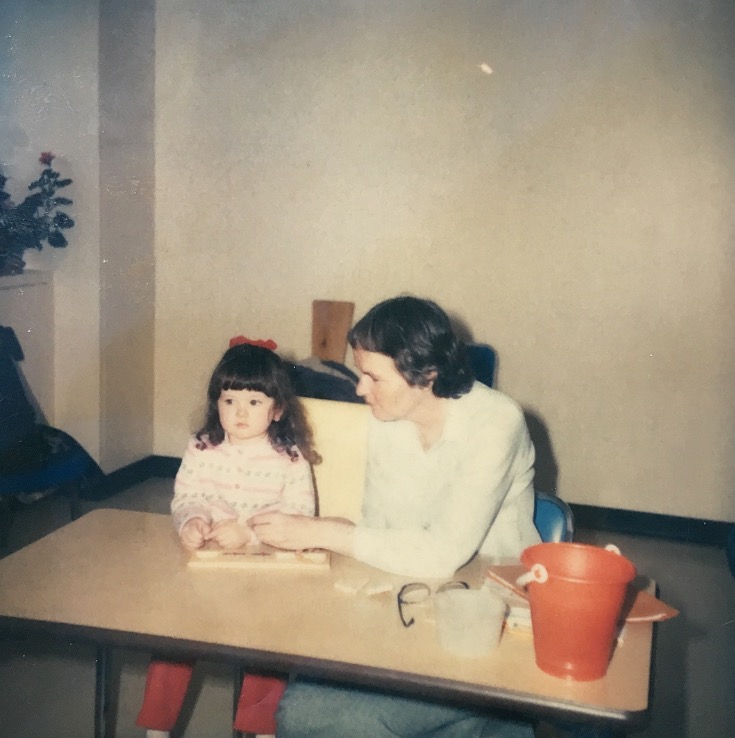 I would go to Toronto once a week with my Mom, I would only be in school for half a day and leave in the afternoon to work with Louise. Louise had a belief, "If a Child can hear one word then they will be able to hear a million words". I was that lucky child that heard one word and learned more words daily. I did not have to rely on sign language and my parents did not want me to learn sign language because I would become too dependent on it and not want to learn to speak. (As an adult I did take a sign language course)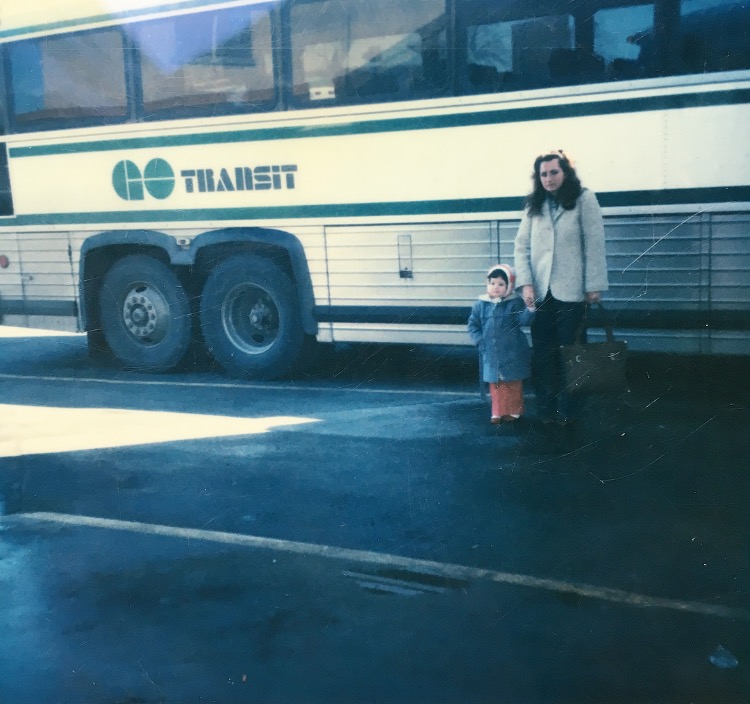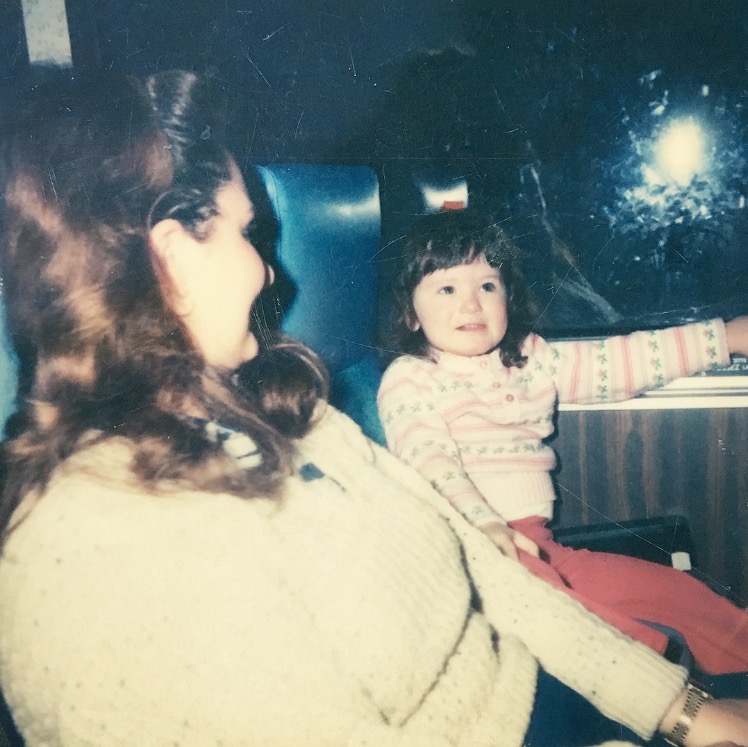 Every night my Mom would work with me to practice my speech, reading, and grammar. That was extra homework on top of my school work. I remember there would be times I would get so frustrated because it was tiring and a lot of hard work and determination. But it sure did pay off for 8 years working with Louise Crawford. I stopped working with her at the age of 10 because she saw that I was doing pretty well and that I no longer needed to work with her anymore.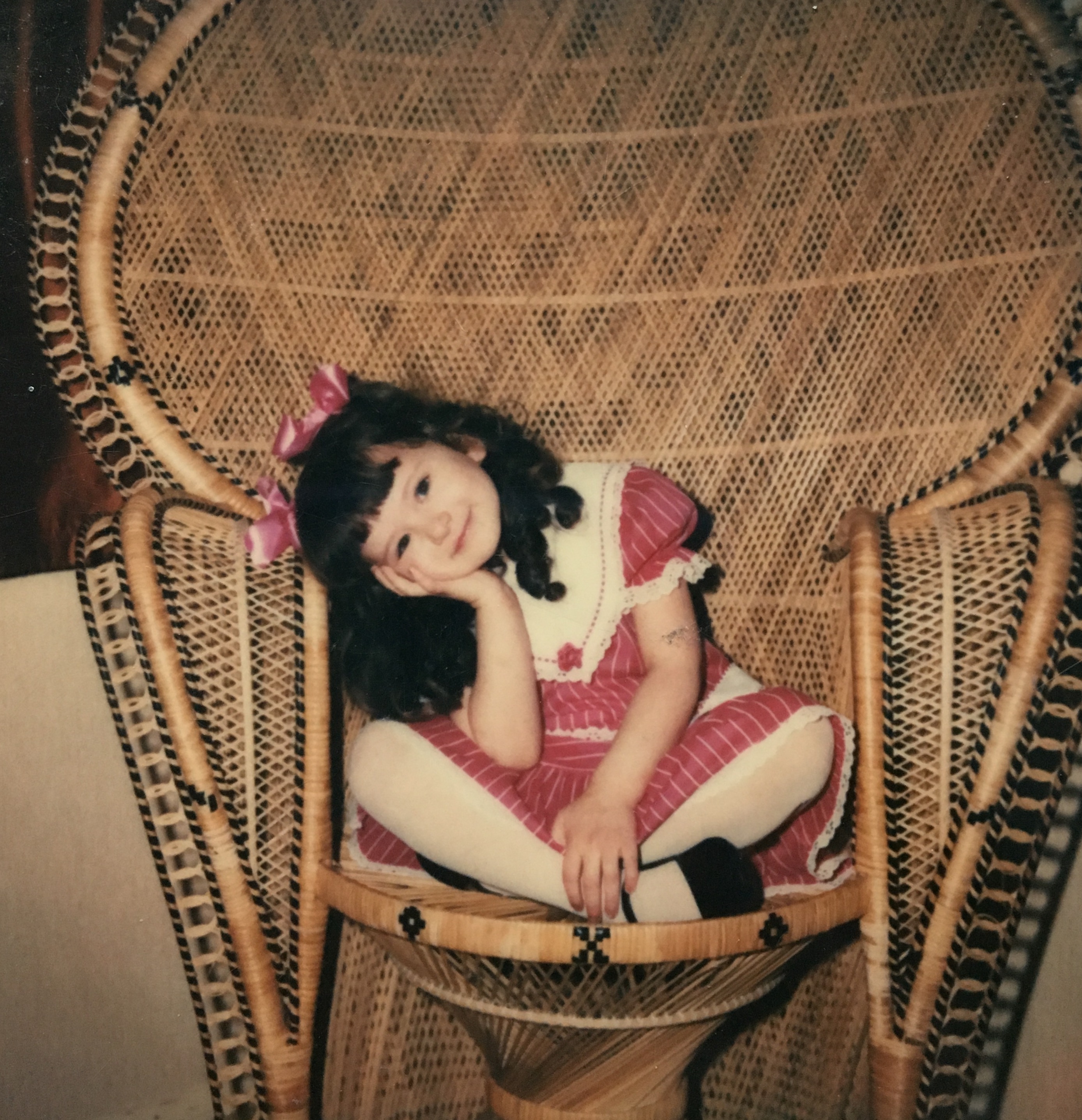 (Even at age of 5 l was always posing in pictures…lol)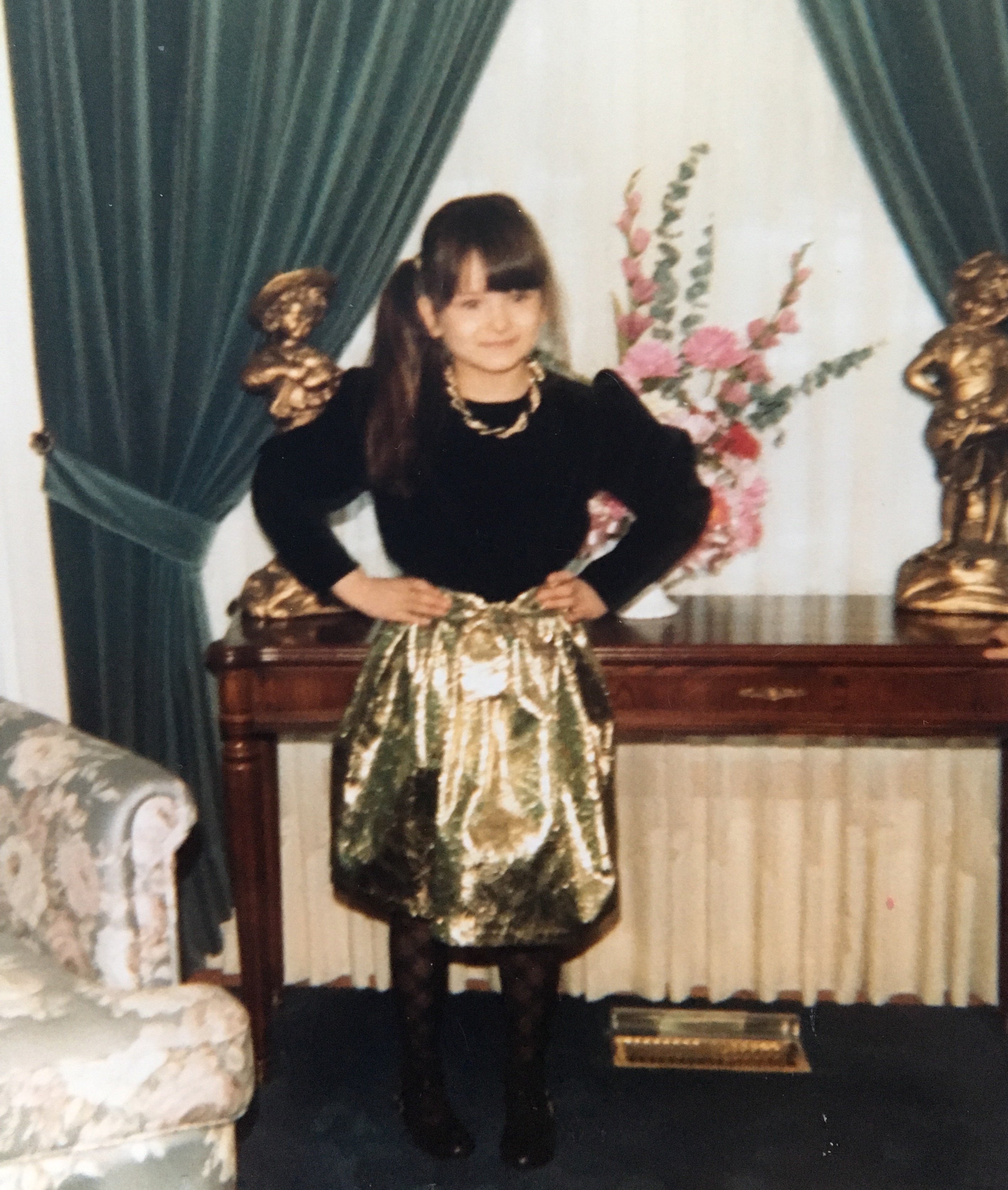 (Me at 7 years old…l remember my Mom actually made this dress for me to wear for Christmas Eve)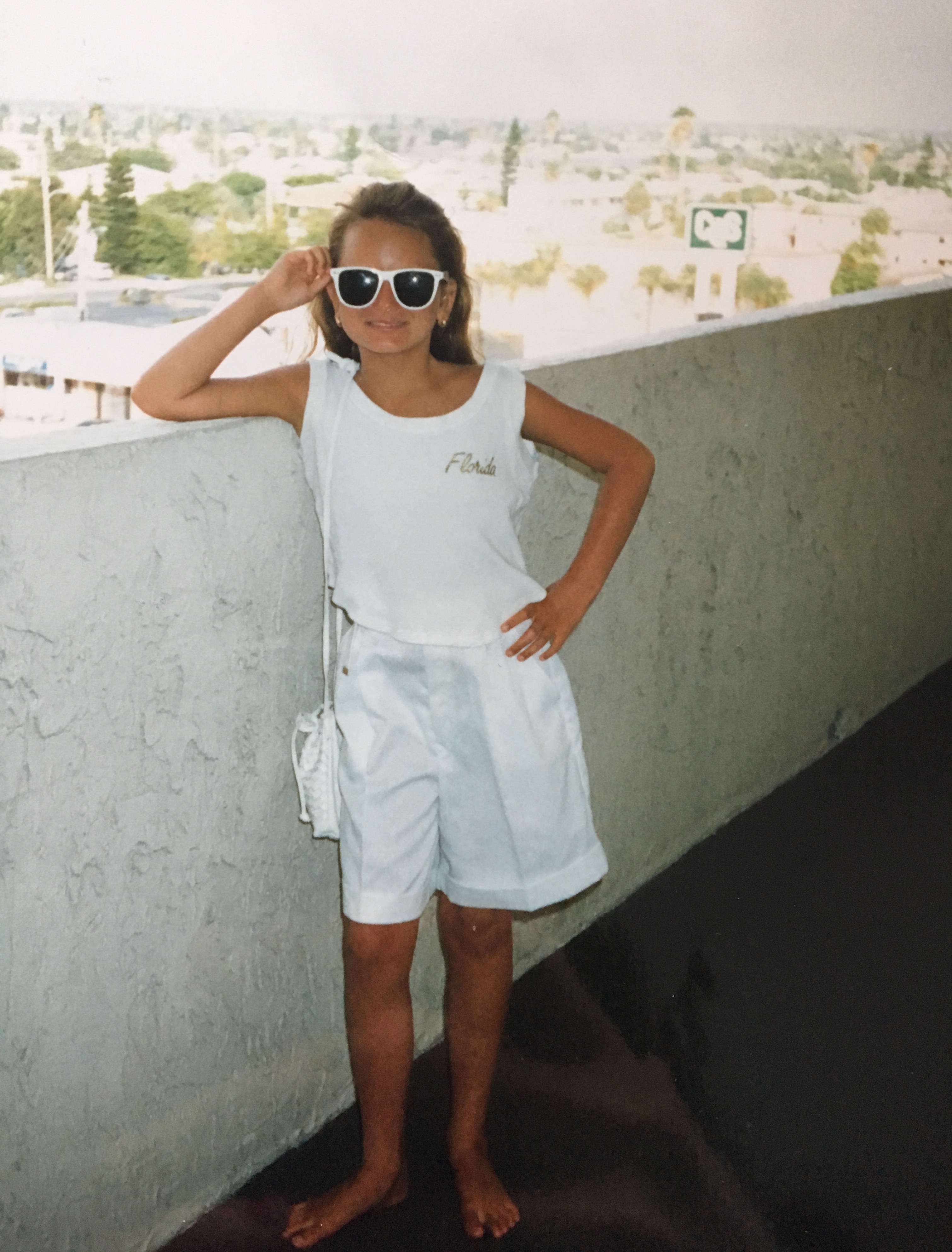 (Me at the age of 9 wanted to look grown up and stylish lol)
To be honest, it was tough growing up having a hearing loss and knowing that I was different from the kids at school. I was bullied as a child because of my hearing loss, cleft lip and scoliosis – age 12 was the worst of times. I was told that I was ugly, not cool enough, smart enough or good enough, etc…Obviously, as we all know kids can be very mean. I had a very difficult time making friends and was very shy and quiet at the age of 12. Of course I was bullied because of that.
Things were better for me in highschool because no one bullied me but I was still shy and not outgoing.  It took me a while to make friends because I didn't know how to start a conversation or carry on a conversation with anyone because of a lack of confidence due to being bullied in elementary school. I never had any boyfriends in high school, one of the girls from my elementary school would make my hearing loss a big issue when one of the guys would check me out and ask about me. She would say "Oh she's deaf" so they wouldn't talk to me.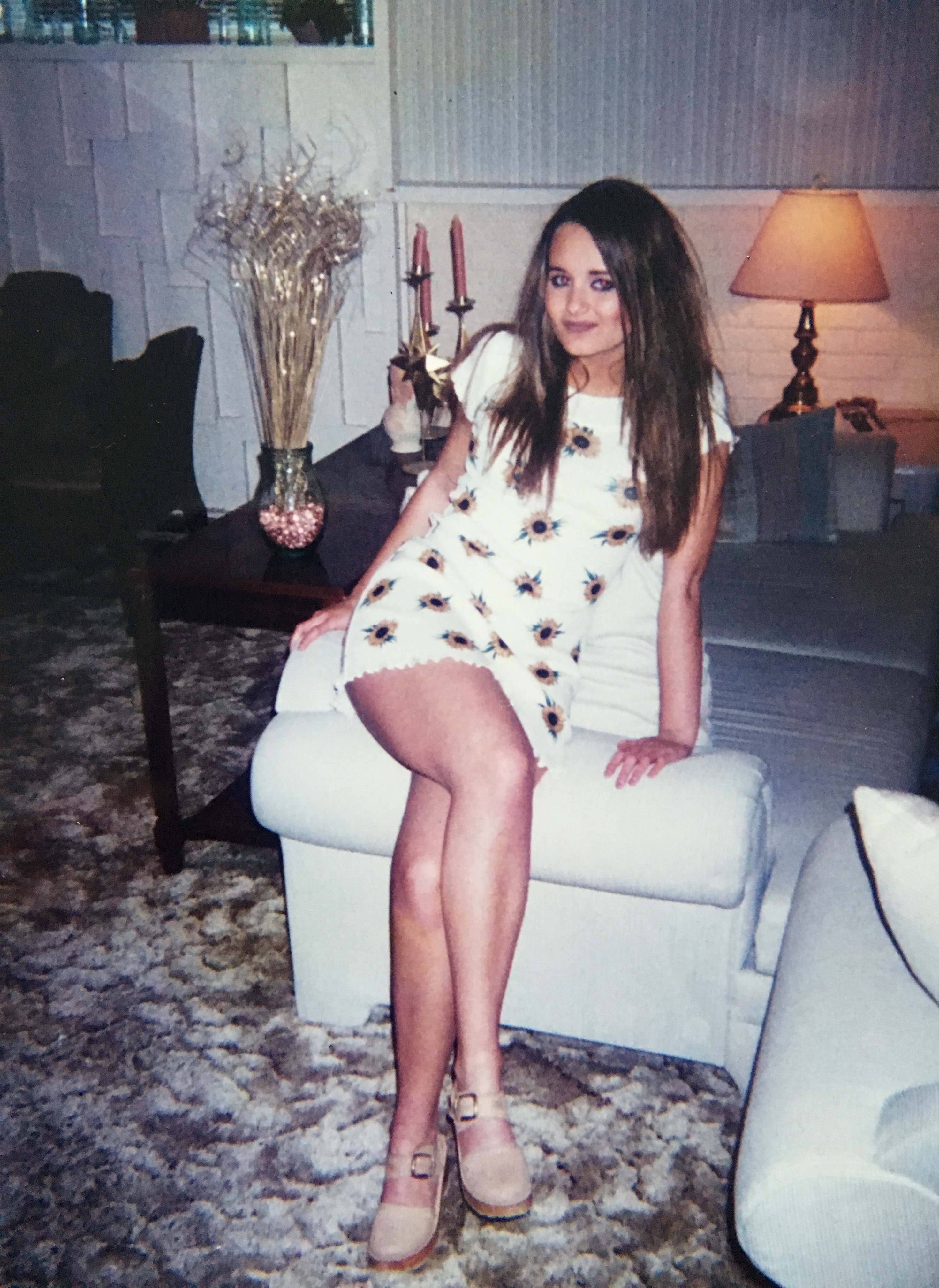 (I was 16 yrs old in these pics and always practicing my poses for photoshoots)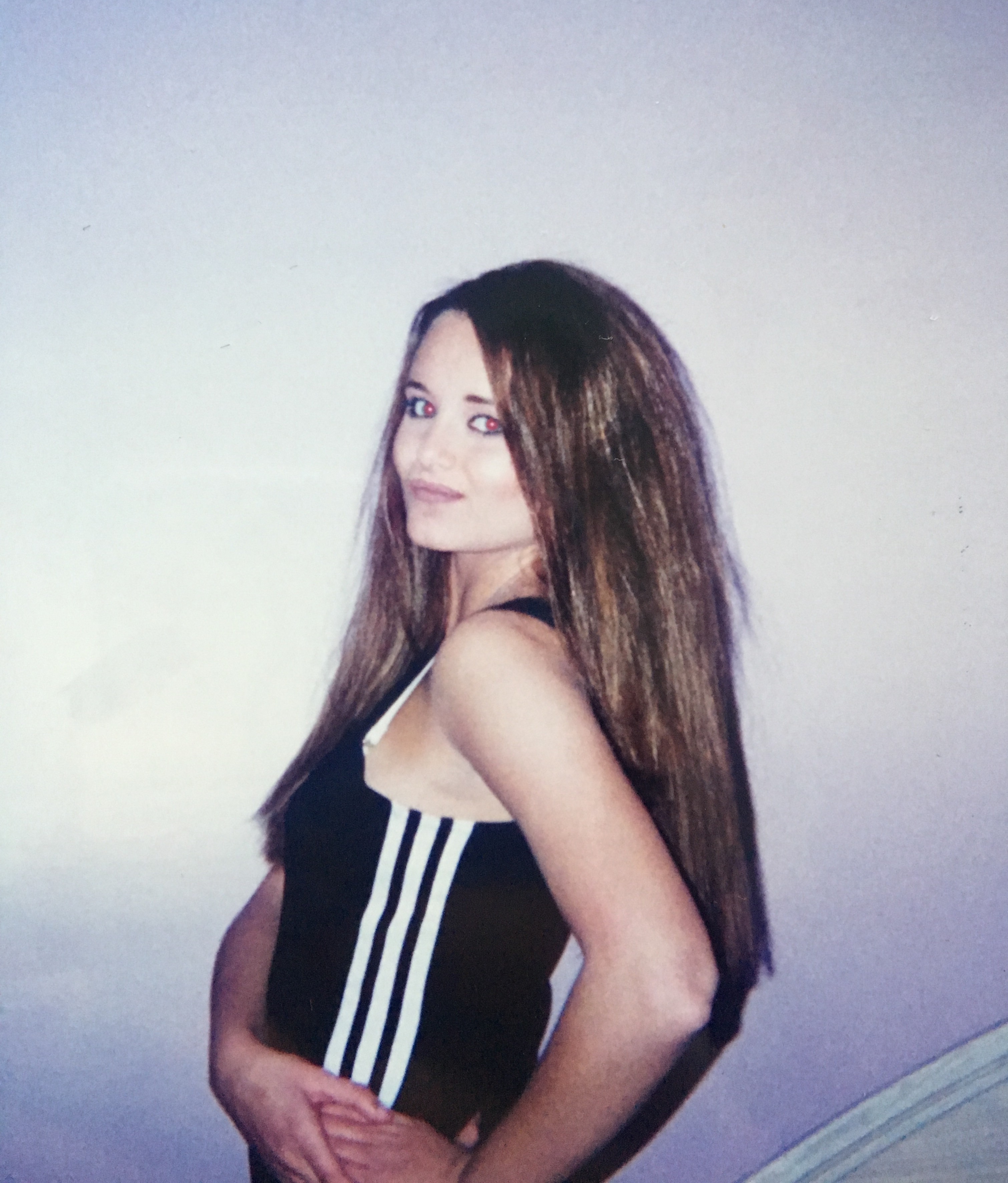 I've always thought that maybe when I am an adult that my life will get easier. Well not really, but it did get better in some ways. I did meet a lot of guys in my 20's and did have some bad experiences with a few of my relationships which failed.
I formed a new circle of friends after I finished high school through the gym. I am still friends with them today, they have been supportive. I am truly blessed for the friends I have now.
I've had people thinking that I have the perfect life because of how I look, dress, and the things I have…making comments like "oh it's not fair that she gets to have this and that" but they don't realize that it wasn't fair that I ended up having a hearing loss and how difficult it is to live with a hearing loss, how I deal with it on a daily basis.
Quite often strangers think I speak with an accent and ask me where I am from, that's a bonus for me! But I've had people that would just stare at me like there was something wrong with me and say to me "You don't look like someone with a hearing problem".  I never understood why people expect a person with a disability to look a certain way – not every disability is a visual disability. It just boggles my mind…
I always felt like I was never good enough for anything, certain job positions, a certain guy or certain people that I tried to be friends with similar interests as me. I remember I had a teacher at school that worked with deaf kids part time and she would put me down telling me I will never be a model, a lawyer or any of those high paying jobs because I can't hear –  that no one will want to repeat to me, things I missed in conversations. She told me that the only job I can do is either be a librarian or work in a restaurant cleaning tables or dishes (there's nothing wrong with these positions but I saw more for myself). This comment really bothered my parents and they addressed that to her boss, I no longer had to work with her anymore. I was on my own most of the time for the rest of my high school years without a teachers aid.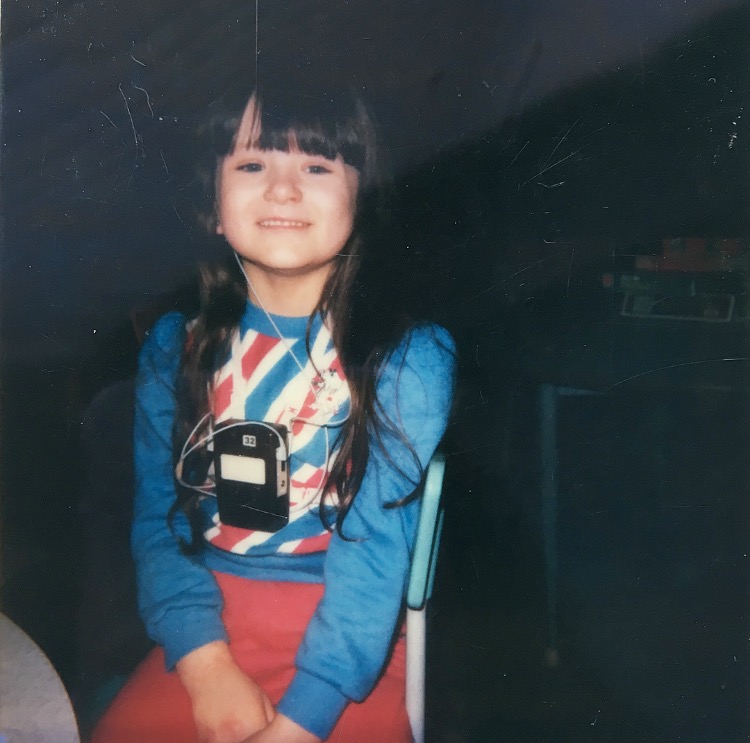 (This was me at the age of 5 and this was a device connected to my hearing aids that this teacher made me wear in school and l hated it because it made me more self conscious in front of the kids but I stopped wearing it in high school. It wasn't necessary for me to wear it and the reason for this device was for me to hear the teacher talking through the microphone device to block out background noises)
I've had people that didn't want to associate with me including guys because of my hearing loss and it's almost like when they heard me speak they just paused and stared at me like there's something wrong with me. Dating was not easy for me and I am still single because there are so many horrible and shallow guys out there that just can't look beyond my hearing loss or anything else. So I gave up in the dating department because it was exhausting and it just drags me down. I've just been hooked on pursuing my fashion blogging to get where I want to be in the future and I am loving it.
I started blogging because I have always loved fashion when l was growing up and wanted to get into modeling at 17 years old. I was rejected by a top agency in Toronto stating, "I'm sorry we don't deal with models with a hearing disability or any other disabilities" that was when I gave up on modeling for the longest time until 5 years ago –  I went back into it,  to give it a try. A very good friend of mine pushed me into modeling and she even came with me to Toronto for the interview with the agency. I signed a contract with them knowing that there is no guarantee that I will get any jobs but at least I am in with the agency! He told me that my hearing loss is not an issue and that I wouldn't have a problem with modeling because it's all about certain looks. But he did tell me that when I go for casting calls that some may have a problem with my hearing loss but it is up to me to be confident to sell myself to get the modelling gig.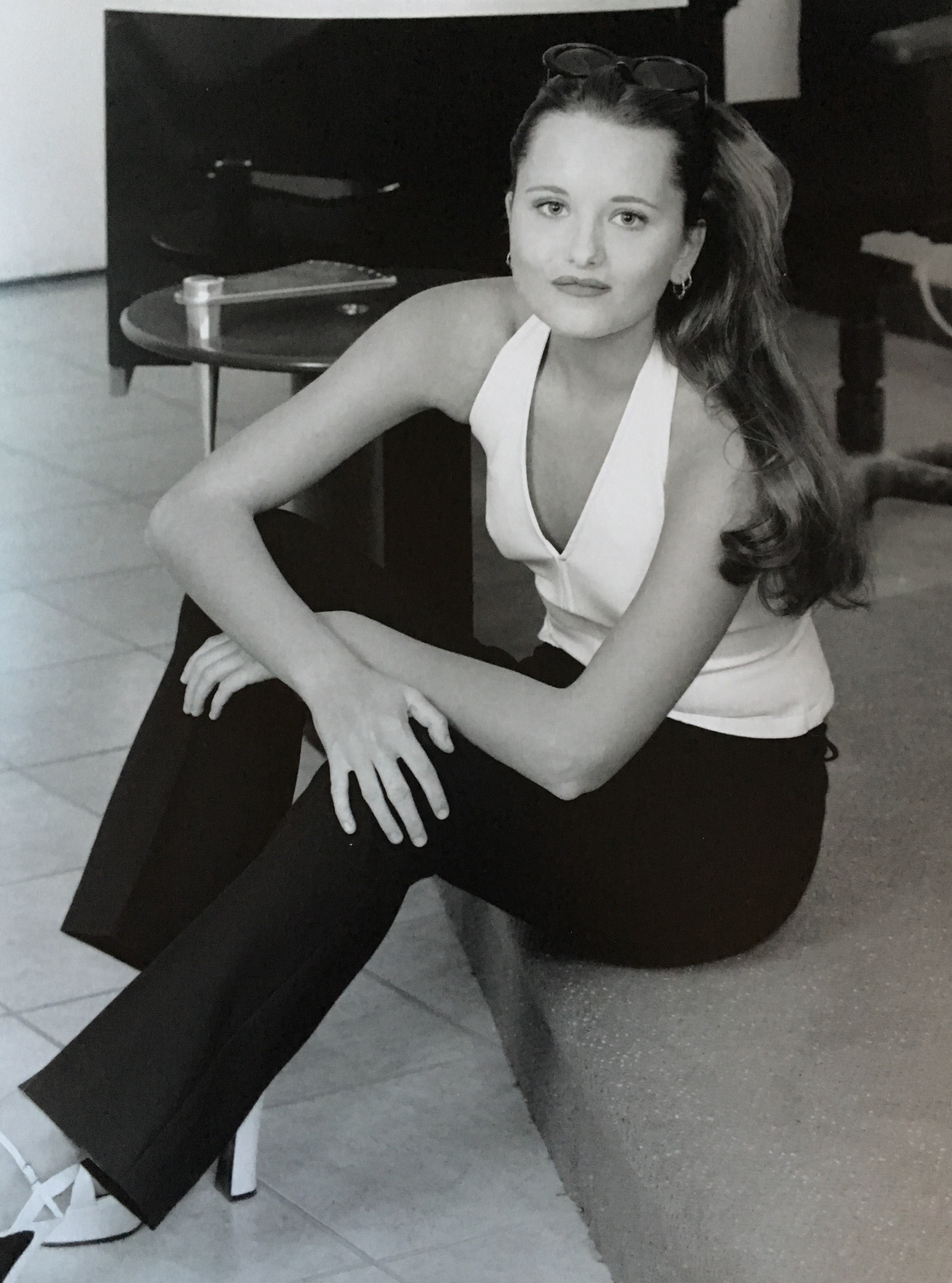 (Me at age of 17 years old doing modeling and building my portfolio)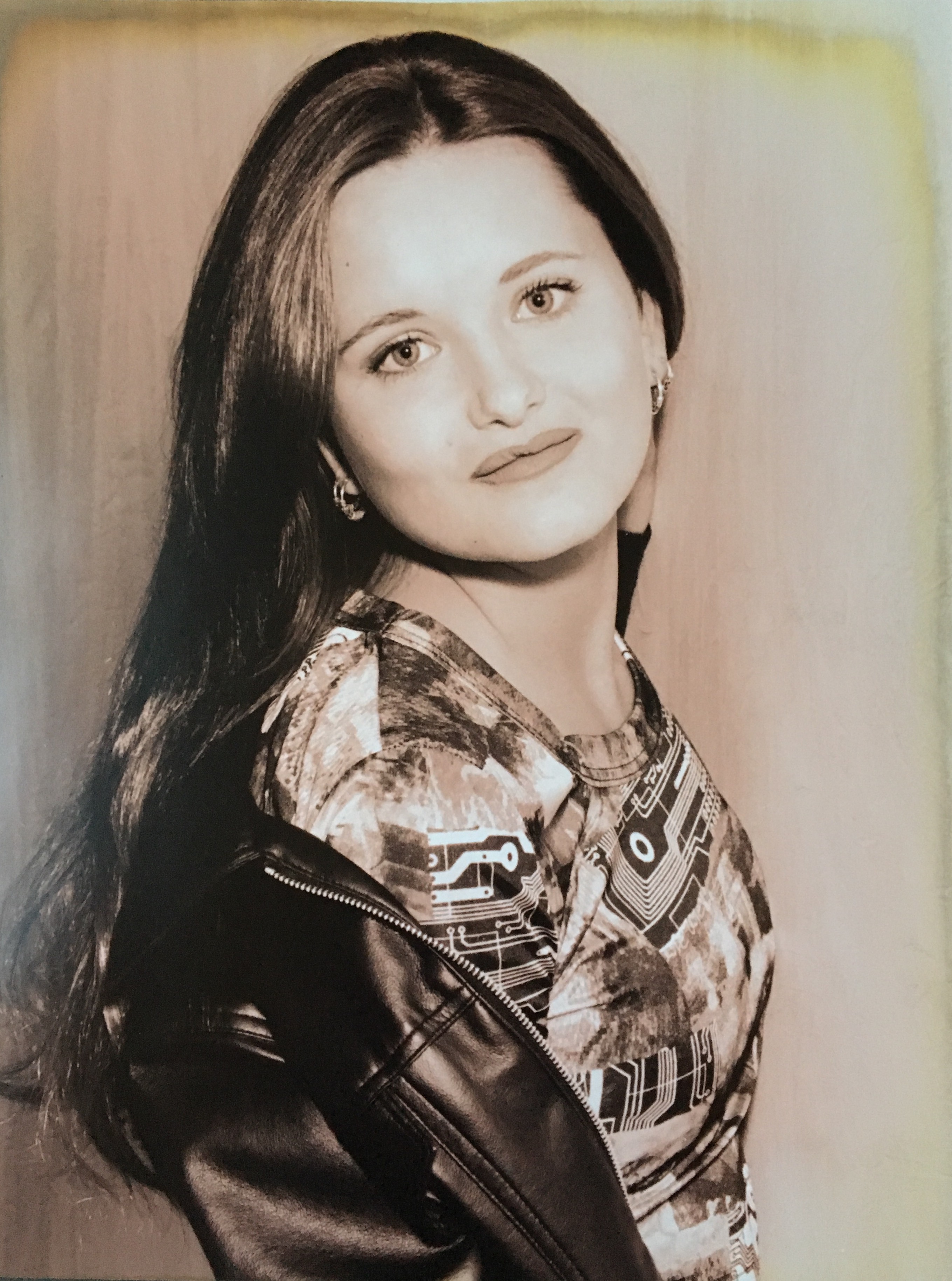 Pretty much my whole life I did not like myself and was not happy with myself. I always felt like I was not special to anyone or good enough because I kept getting rejected with getting a job promotion, not meeting that special someone and keeping a relationship.
I always thought what is my purpose here in this life? My calling? Am l meant to have this life being unwanted in this world? Being rejected through life, not landing a dream job, not finding the right guy for me… I always thought maybe I am just meant to have what I don't like or want in my life because of my hearing loss. I always felt like my hopes and dreams were taken away from me.
So one day I got so fed up with the way things were going in my life and I was in a dark place, feeling really depressed to the point it affected my health which is another story. I realized this is not a good way for me to live my life like that and l finally did something about it to make it better because I deserve to be happy, do what I love to do and make my dreams come true.
I started be more tougher, stronger and stand up for myself. I stopped surrounding myself with negative and envious people. l started surrounding myself with positive people – it sure made a difference! I learned to know who to talk to and those who I should keep at a distance. I decided that I wouldn't let anyone dull my sparkle!
I started the idea of blogging in 2015 with researching and planning, practice photo shoots and writing. It took me a whole year to plan and I launched my website last year. I kept it a secret from many people because I didn't want to jinx it and wanted to see how things go. I am amazed with how much I have accomplished and it did change me in some ways. I am in a much happier place because I am actually doing what I love doing and I am my own boss and created my own part time job that no one can discriminate me from wanting to do what I dreamed of doing. I've connected and built friendships with wonderful bloggers from all over the world which brightens up my day and I truly feel blessed!
So now I know what my purpose is, my calling and I think the purpose was for me to become a style blogger. To be a role model for everyone to help and inspire them…to believe that you can be anything you want to be in life no matter what you have, a disability or no disability. To show the world what I am capable of and that anyone with any disability are capable of doing things like other people who don't have any disabilities. To open more eyes in the world out there for people to be more open minded, accepting and not discriminate people with any disabilities that are trying to find a decent job, to make a decent living, to have the life they want to live.  Never judge or assume anything about someone just because they have a disability. Treat them like they are like everyone else and give them a chance at success because you never know what hidden talents they have to offer. As for me, I have a full time office job that I've had for 20 years and I have been living on my own for 8 years.
So I am here to inspire other people and empower them to be anything they want to be and to see the obstacles that I have overcome for others to believe that there is hope for them and that they can over come any obstacles that come their way.
I have to say that when I think and look back on all this…I am truly grateful for all this and my amazing parents who were willing to help me be who I am today! I truly have my very own guardian angel – I call him Dad. He has guided me through this journey and making my dreams happen! I also have a wonderful sister who has always been helpful and supportive of me…my sounding board. She has been part of my blogging journey taking photos and editing my blogs. So who knows what the future has in store for me😊
I know this is a very long blog post and it is something I wanted to share.   When I was writing this blog it did bring some tears to my eyes and it made me realize that I should be very proud of myself for what I have overcome and accomplished – and learn to not care about what certain people think of me. I know that haters will always be haters. All that matters is that you stay true to yourself and do what makes you happy because life is too short! Start living! I hope this blog has truly inspired you and somehow will help you to get through the obstacles or struggles. If you have any questions or advice please don't hesitate to contact me😊
Love always! Helena xo