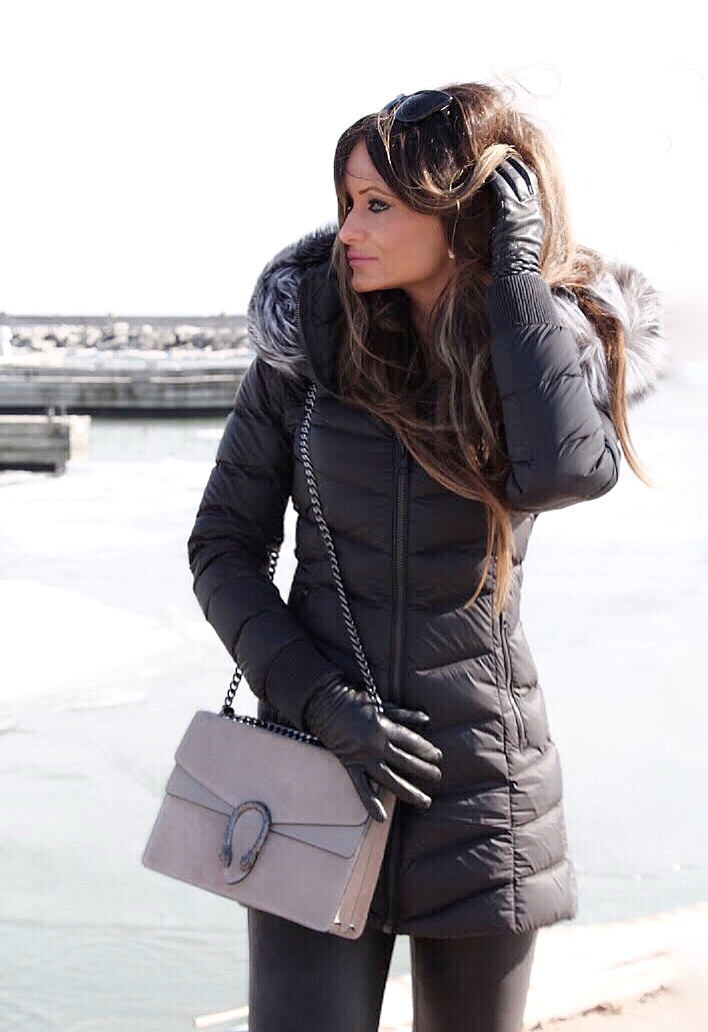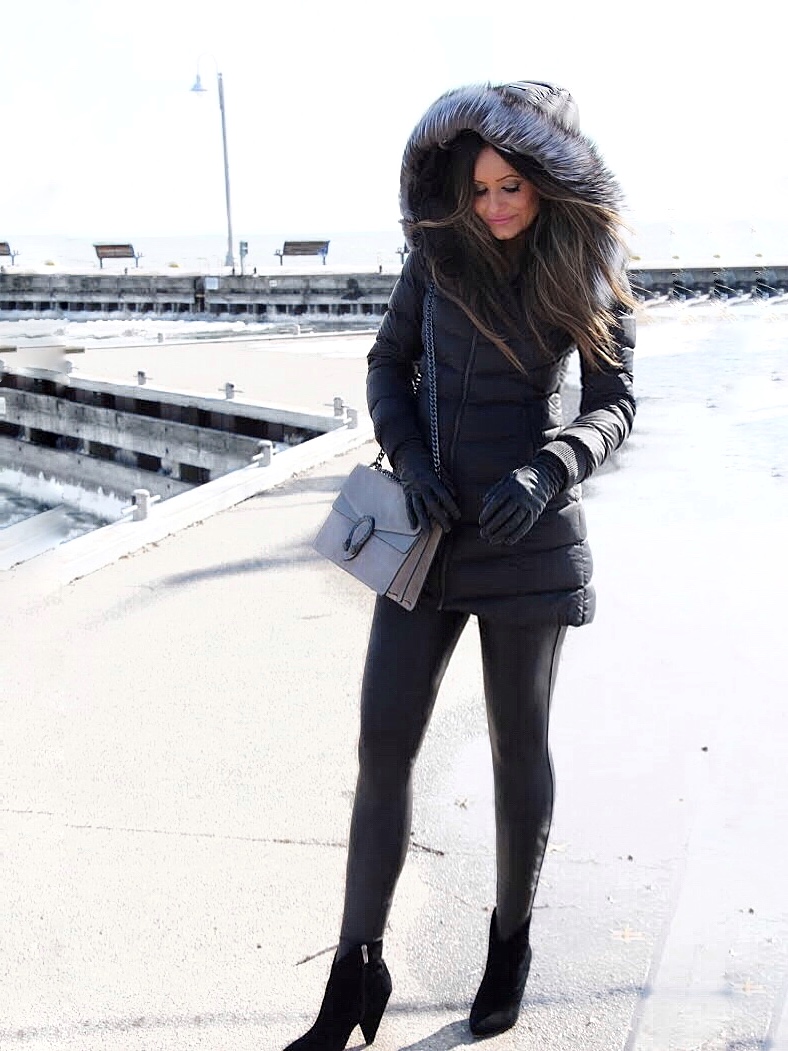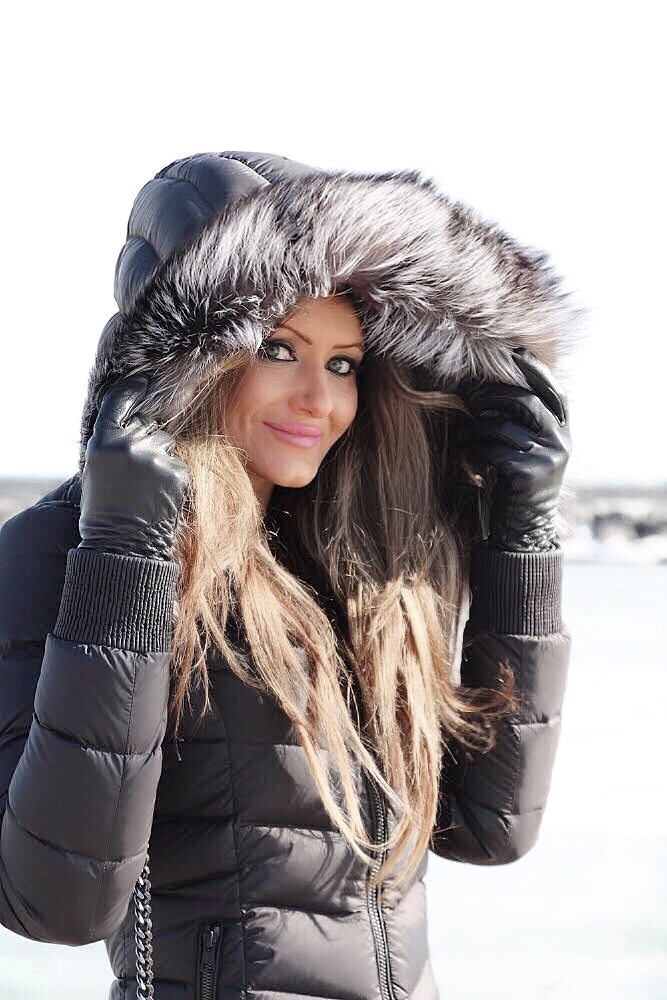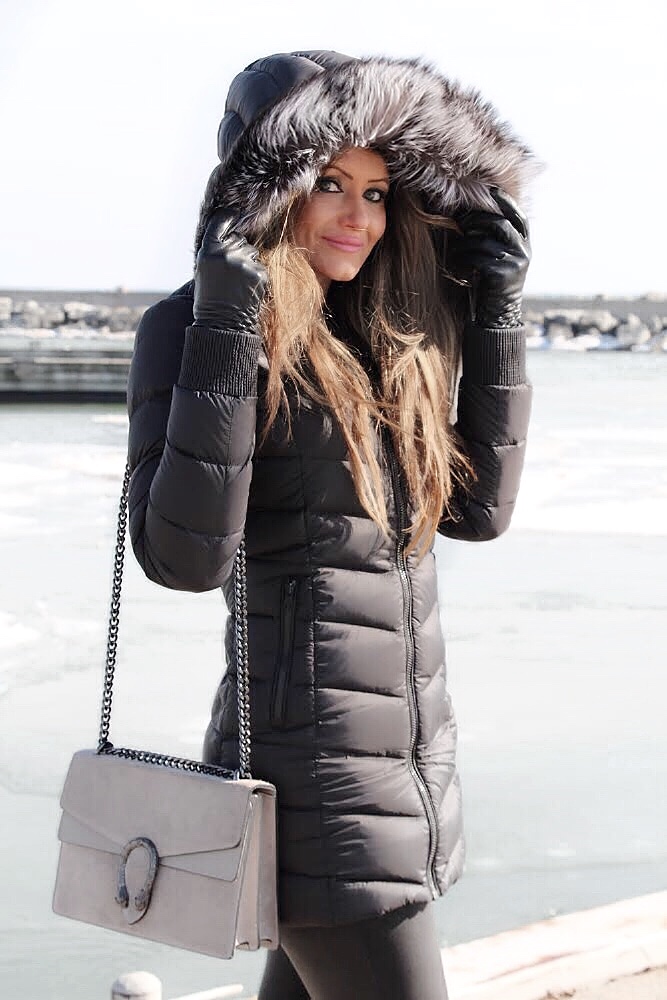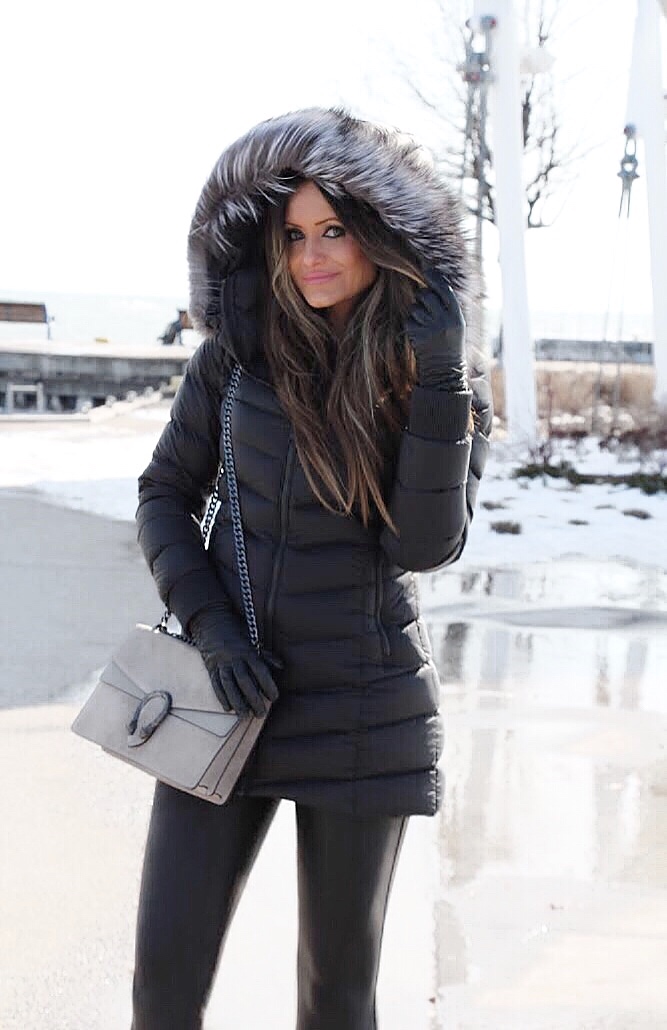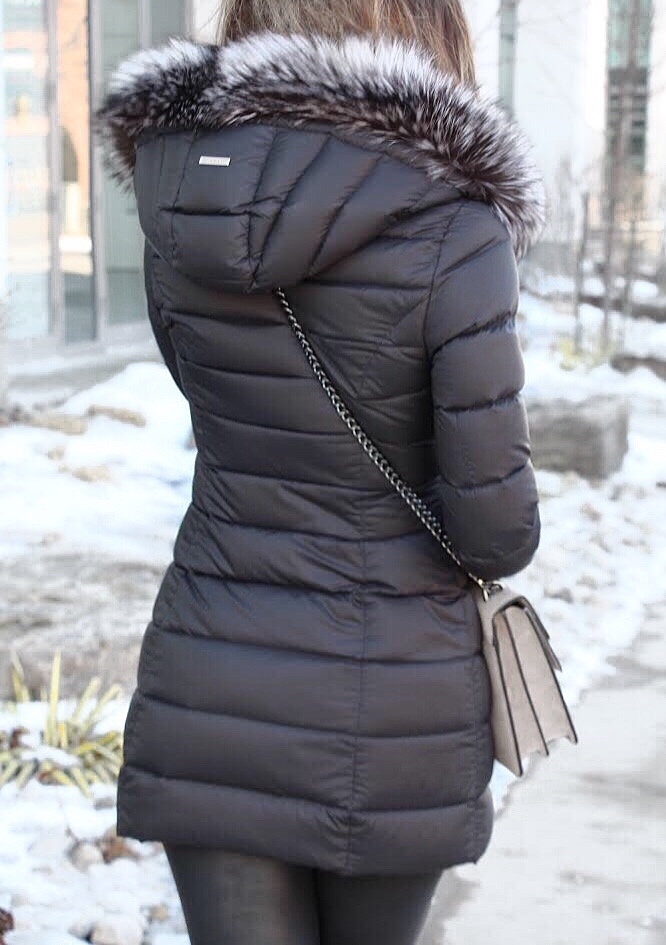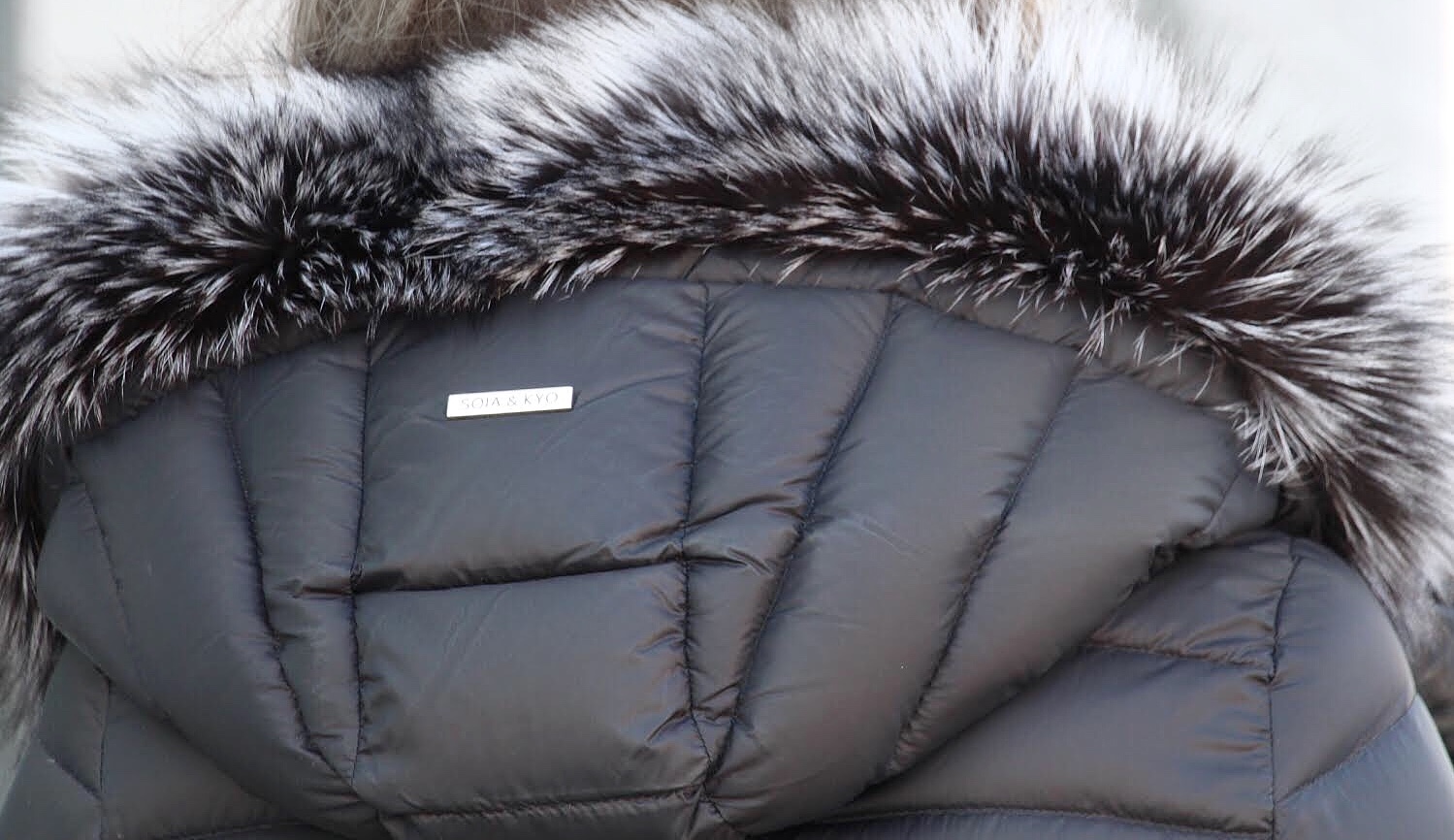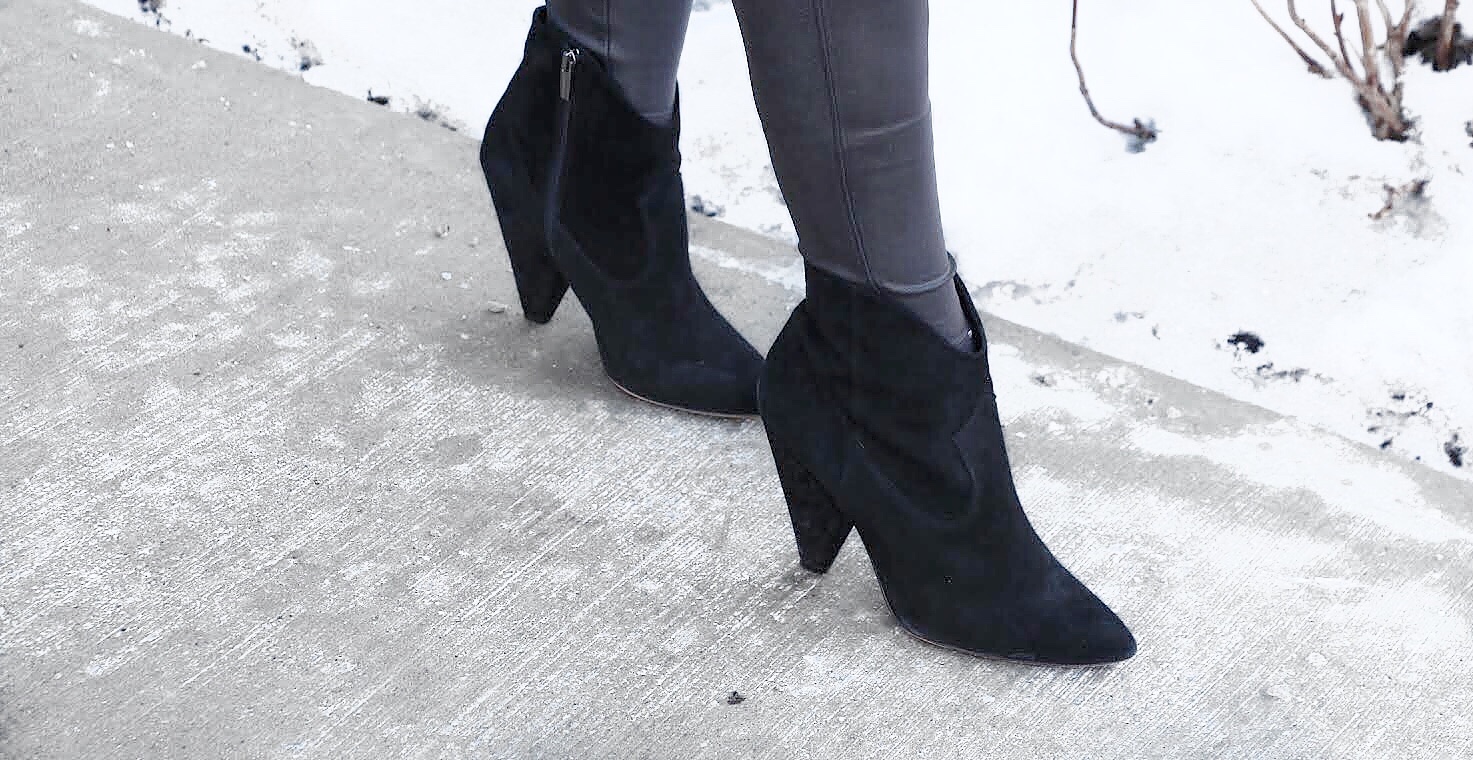 Photoshoot location: Oakville Lakeshore
Coat: Soia & Kyo
Leggings: Spanx (here) 
Booties: Vince Camuto (here)
Purse: Fashion Drug
Well hello spring! Now that winter is over I thought I would share with you my end of winter purchase. I recently bought this coat a month ago because I just got soooo fed up with my Dbrand coat that I've been wearing for almost 5 years. The lining has ripped apart which is so disappointing considering I paid a fair amount for it and would expect a higher quality. I was so desperate for a new black coat that would go with everything and most importantly to keep me warm.
The Soia & Kyo brand is very good quality and I just love how flattering their coats are. I was recently at a Mackage store wearing my Soia & Kyo coat and a sales associate told me they are the sister company of Mackage. Both of these brands have similar styles. I first learned about Soia & Kyo last year in the fall when I was invited to their grand opening at Square One but was unfortunately unable to make it out to the event.
So when I checked out their site, I loved a lot of their coats and how simple their designs are and I thought the styles reminded me of Mackage but at a much more affordable price. Most Soia & Kyo coats are between $300-$600 (there are some that are more expensive, but they have a good range of coats under $600) whereas Mackage prices are between tend to be around $800-$1,000+ for many of their winter coats.
For quite awhile I was on the hunt for a new black winter coat. I've looked around at Rudsak, Mackage and We Love Furs but I had a budget between $300-$500 for a coat. I didn't want to spend over $1,000 at this point plus I am picky when it comes to winter outwear. So when I spotted this coat at Square One, I had to try it on and I just loved it on me – how it fits, the shape to it and how the sleeves are slimming. I don't like coats that have wide or puffy sleeves. I like more of the slim look that shows more of your figure and yesss it is warm. So many people ask me is it really warm?  Because it doesn't look heavy or bulky and that's why they ask. What I like about this coat is that it's lightweight and good for minus 5 temperatures. I can still wear a sweater with a huge knitted infinity scarf wrapped around me and I'm warmed up! I know some people prefer coats for minus 25 temperatures but I find that they are too heavy and too hot to wear if you are going in a shopping mall. That's just my preference of what I like in winter outwear. There's some great end of season sales on winter coats right now, so if you need a new coat for next winter now is the perfect time to snag a coat at a great price.
Unfortunately this coat is not linkable with LIKEtoKNOW.it  but I wanted to share this and you can decide if you wish to check them out. Let me know what you think ladies!